2018 Trust AGM information
Posted on 13 Aug 2018
The Trust's 2018 Annual General Meeting is to be held on Wednesday 5 September 2018 in the Henrietta Barnett School Hall, Central Square NW11.
There will be a period for informal conversation over light refreshment at the beginning of the evening, and doors will open at 7.30pm for that purpose.
The business will commence at 8.00pm; official notice of the meeting has been sent to all Members, and can be downloaded as a PDF here. For more information on Trust Membership, click here.
Suburb residents who want to check if they are currently a Trust Member are asked to email the Membership Secretary via mail@hgstrust.org with details of their full name and residential address.
Trust Annual Report and Accounts for 2017/2018 published
Posted on 19 Jul 2018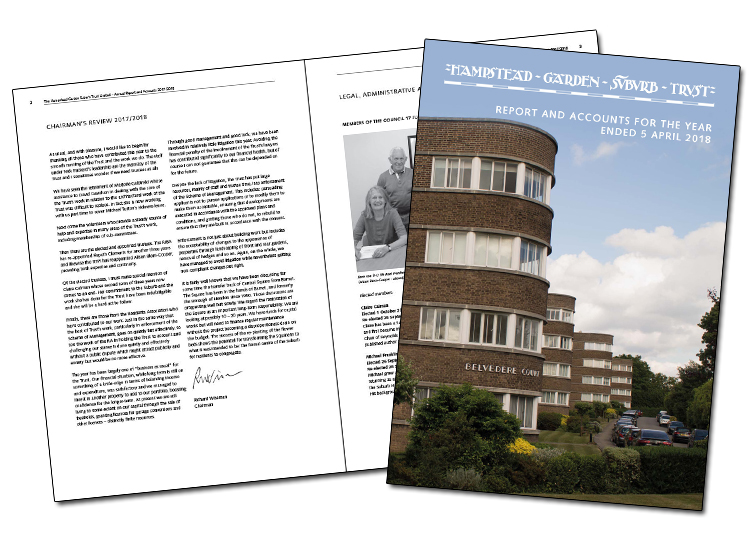 The Trust's Annual Report and Accounts for 2017/2018 has been published, and copies will be sent by post to all Trust Members in the next few weeks. Copies will also shortly be available from the Trust office, and the PDF can be downloaded from our website.
To find out more about becoming a Member of the Trust company, see here.
Opt-in to receive notification on Trust applications subject to more extensive consultation
Posted on 04 Jul 2018
In line with the Trust's Consultation Policy, we aim to seek the opinions of interested parties on applications for proposed changes in the appearance of buildings and/or the land on which they stand in the Suburb. Routinely, the Trust notifies nearby neighbours regarding applications to a property. On certain applications, which may have a broader impact, the Trust notifies a wider group, including those residents who have opted-in to receive such notifications from the Trust.
Any resident or owner of a property on the Suburb (whether or not a member of the Trust) who wishes to register for optional notifications on more extensive consultations from the Trust by e mail should e mail mail@hgstrust.org with details of their name and residential address, requesting to opt-in to receiving correspondence on any or all of the following:
Trust events (e.g. Winter Lecture)
Consultation on certain applications, in line with our consultation policy
Trust e-newsletter
Please note that it is not possible to register to receive notification of more extensive consultation notifications by postal letter as these are sent by e mail. Routine notifications will continue to be sent to nearby neighbours by postal letter.
Any resident on the Suburb who is not a member of the Trust, and wishes to become one, may do so by completing and returning the form available here. There is no cost and liability is limited to £1 per member.
Sunshine Corner and Central Square update
Posted on 30 Apr 2018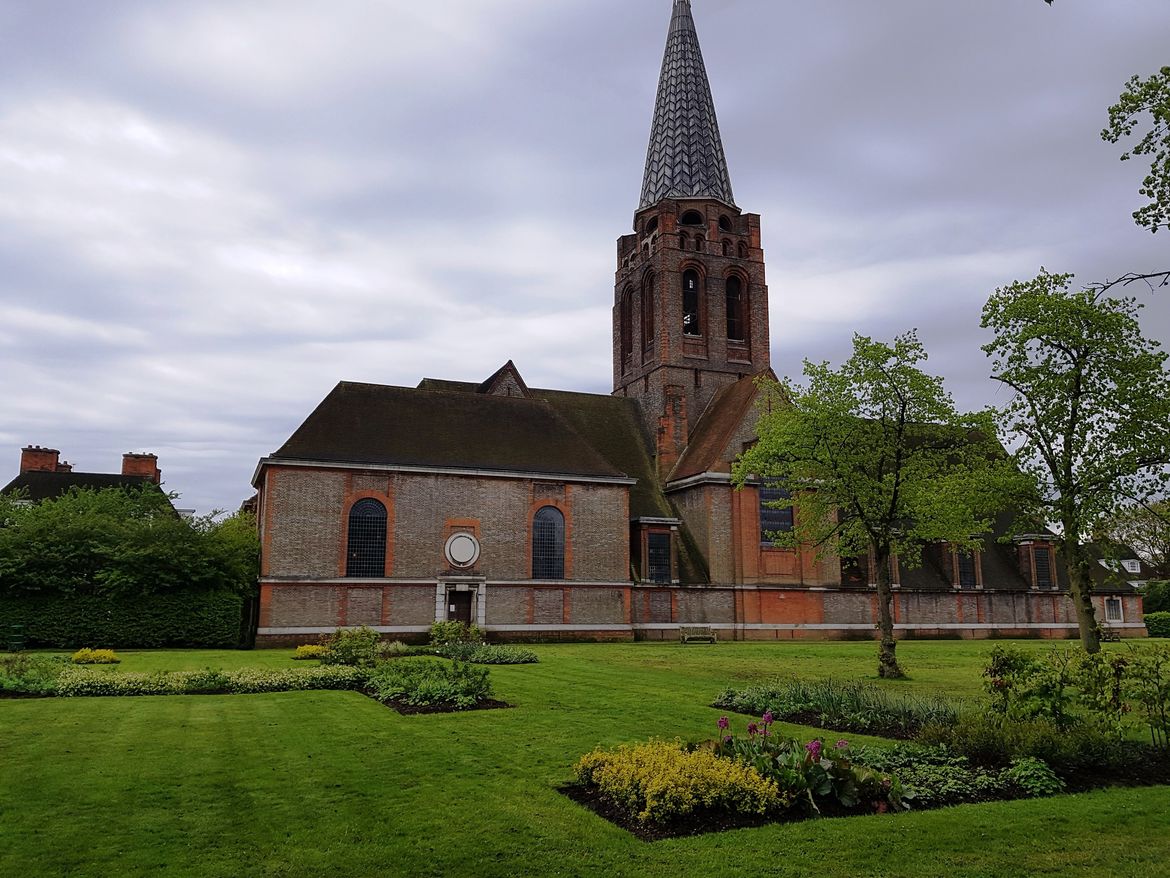 The weather can't make its mind up, but if you have seen Central Square and Sunshine Corner recently, you'll see that Spring is well on its way. At Central Square, the new beds are looking lush and healthy, with the early crocuses and daffodils dying back, making way for yet more flashes of colour and healthy new growth.
And at Sunshine Corner, after a long winter and the beds looking rather bare, the planting is beginning to emerge from the cold earth as green shoots reach for the sun.
Keep an eye on both sites over the coming months as Sunshine Corner's new arrangement establishes itself further, and Central Square continues to flourish with year-round interest.
If you have any questions about either site, please contact the Trust office on 0208 455 1066 / 0208 458 8085 or mail@hgstrust.org
HGS Trust 2017 Winter Lecture a Great Success
Posted on 05 Dec 2017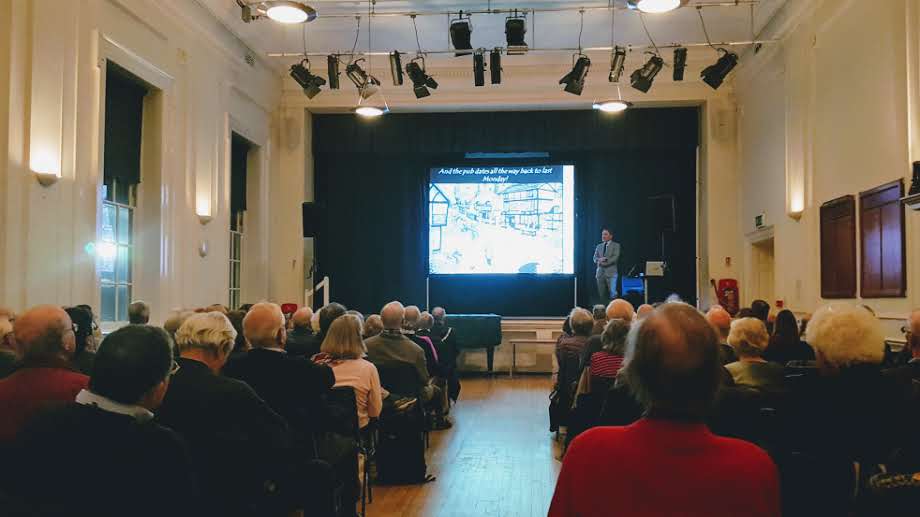 Thank you to all who attended this year's Trust Winter Lecture.
In recent years, the Trust has organised several winter lectures on a variety of subjects in hopes to interest, entertain and provoke thought among the audience.
This year there was a warm atmosphere at the Henrietta Barnett School for this well-attended event, despite the cold air outside. Residents and others with an interest in town planning, the Suburb and related subjects came together to mingle, and enjoy a glass of wine and a mince pie or two, before taking a seat for the lecture. We were especially pleased to welcome the Mayor of Barnet, Cllr Brian Salinger.
Our special guest speaker this year was Simon Conibear, who for many years was Estate Director for Poundbury, the Duchy of Cornwall's urban extension of Dorchester.
Simon delivered an interesting, thought-provoking, and often rather amusing lecture which covered the establishment and development of the project.
Although it could be argued there are more differences than similarities between Poundbury and Hampstead Garden Suburb, Simon's presentation brought a number of interesting points for the audience to consider, in terms of town planning, residential building design, and vernacular styles of architecture, amongst others.
It was particularly illuminating to see Poundbury's approach to the use of local architectural styles and building materials in stark contrast to other modern housing developments.
Simon's fascinating and well-illustrated lecture also generated a number of salient questions from the audience.
We hope everyone had an enjoyable evening.
Work at Sunshine Corner Autumn/Winter 2017
Posted on 15 Nov 2017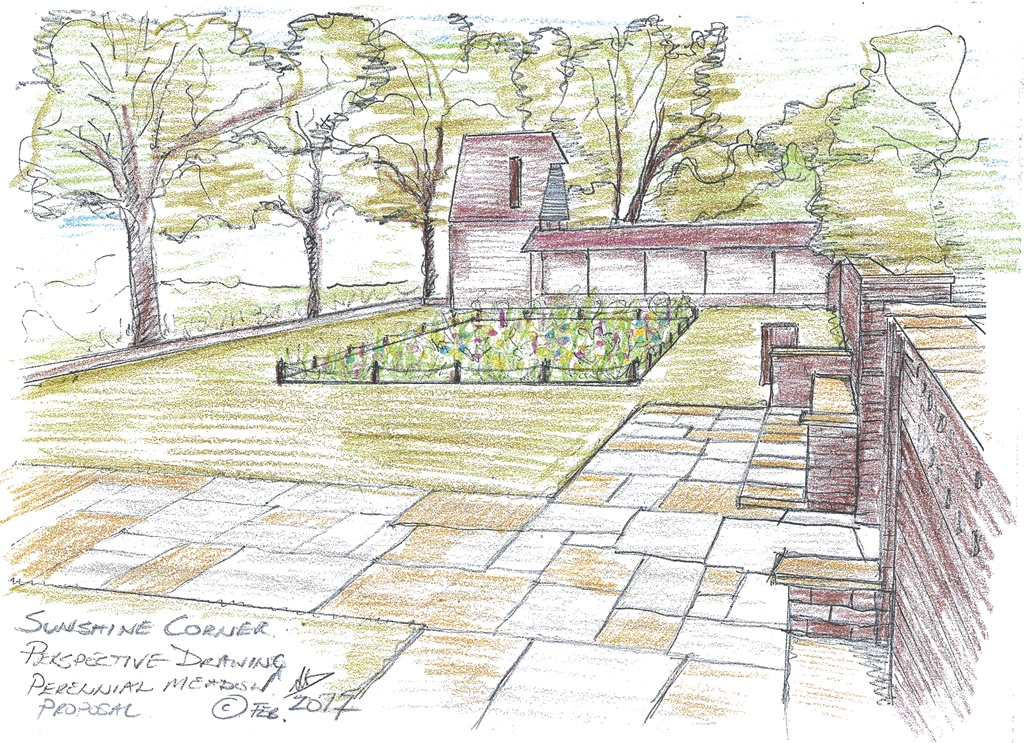 Sunshine Corner perspective drawing, perennial meadow proposal © SPC Designs
The Trust is currently making some changes to the planting at Sunshine Corner. This includes changing the planting and orientation of the beds. Click these images to view large versions.
Work is now underway, and will continue over the winter months into early 2018. Please note, the posts and chain as shown in the above image are not being implemented.
If you have any questions about this or any other queries relating to Sunshine Corner, please call the Trust office on 0208 455 1066 or mail@hgstrust.org. The full plan, shown below, can also be viewed in the Trust office if preferred.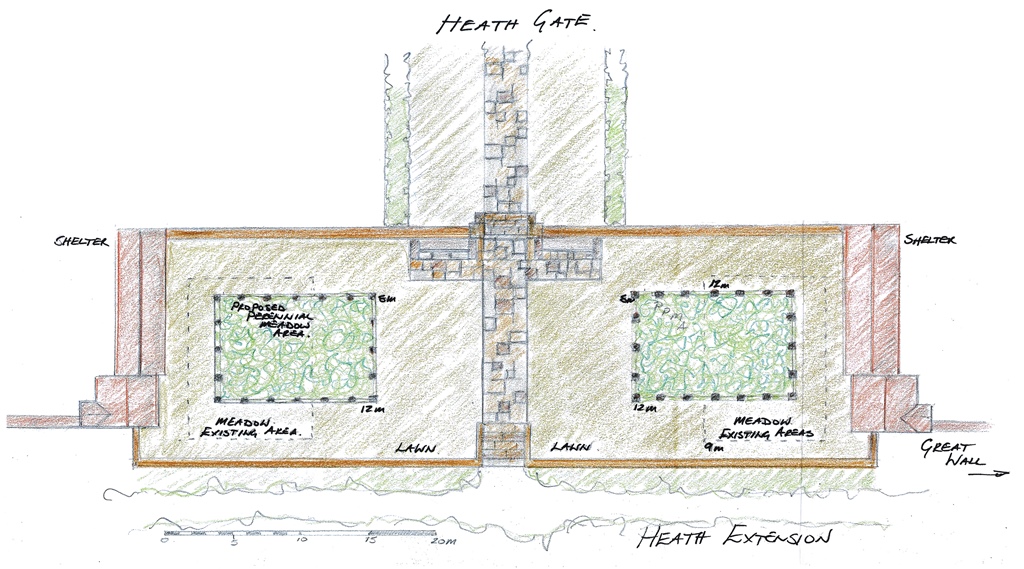 Sunshine Corner perennial meadow proposal plan view © SPC Designs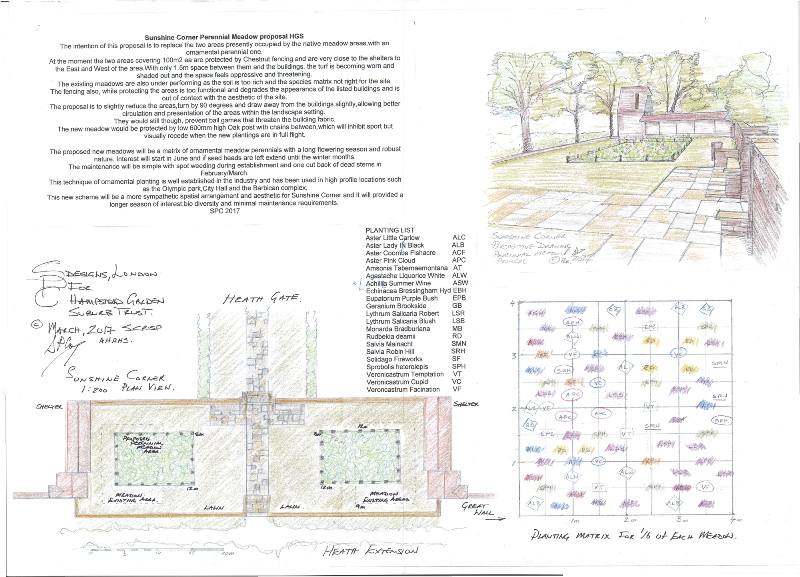 Sunshine Corner perennial meadow proposal © SPC Designs
2017 Trust Election Results
Posted on 29 Sep 2017
The Trust has received the result of the 2017 trustee election, which is reproduced below in the prescribed form.
It has been established that 23 Trust members (out of a total eligible to vote in the 2017 election of 925) were not sent ballot papers by the deadline. This was due to an administrative error on the part of the Trust.
As there was a clear winner in the election, this did not affect the outcome.
The mistake arose during the process of removing one associate member (who are not eligible to vote) from the spreadsheet containing the membership list. This inadvertently resulted in 23 full members being removed from the spreadsheet used for the election.
We have written to the 23 affected members to inform them and apologise.
We apologise for this mistake. In the future we will have procedures in place to avoid a recurrence.
The votes for this year's Trust Council election have been counted and verified by our auditors, haysmacintyre. 407 valid ballot papers were received. There were 4 rejected papers. One resident Trustee position was up for election, with two candidates standing. Brian Ingram received 116 votes. Michael David White received 291 votes. Therefore Michael David White has been re-elected as a Trustee.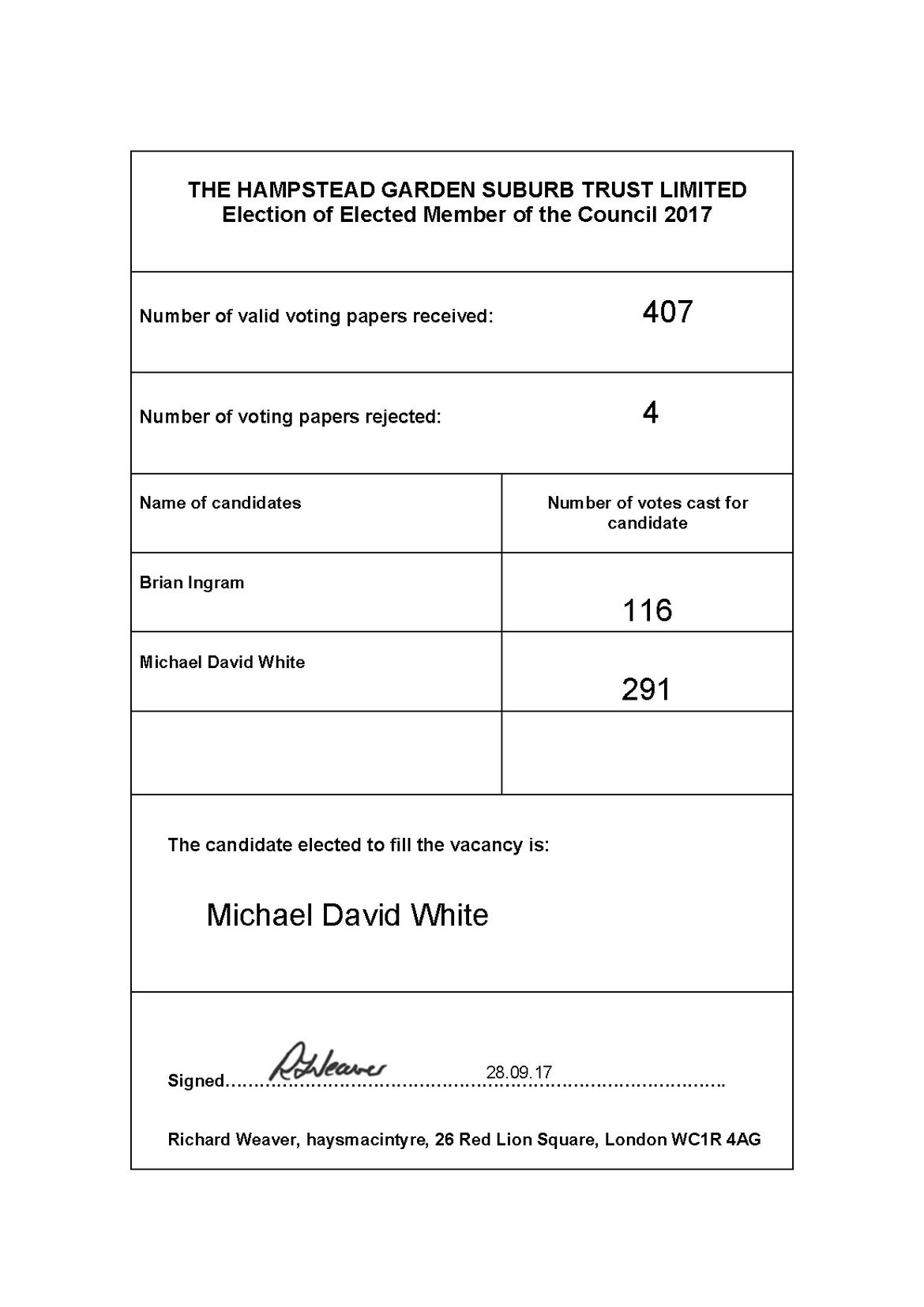 A letter from the Chairman
Posted on 14 Sep 2017
The letter below has been sent to all Full Members of the Trust who are eligible to vote in this year's Trust Council election. It has been sent via email where an address was available, and by post if not.
Click the image below to download a PDF of the letter.
Ballot papers have been sent to all those Members eligible to vote. If you would like to check your eligibility or have any other queries regarding the election, please email mail@hgstrust.org or call the Trust office on 0208 455 1066.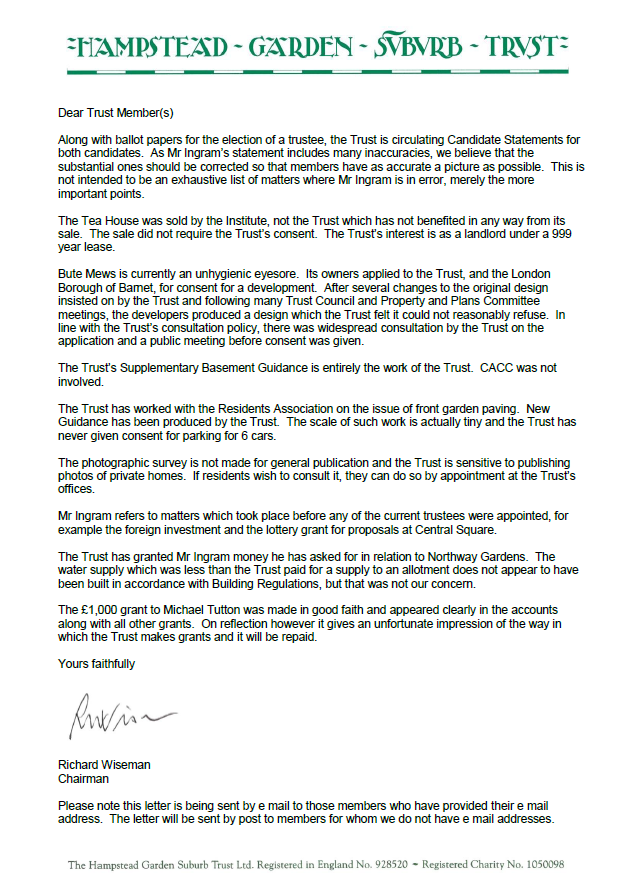 Central Square flowerbeds launch
Posted on 10 Jul 2017
Last Friday afternoon, the restored Central Square flowerbeds were officially 'launched' at an event attended by numerous Suburb residents, local dignitaries, and respresentatives of the organisations that made it all possible.
Those present included MP for Finchley and Golders Green Mike Freer, the Mayor of Barnet, Councillor John Marshall, staff and Trustees of the Trust, the designer of the new flowerbed scheme Stephen Crisp, and the Trust's gardener Jonathan Gordon.
The restoration scheme has been funded with contributions from the Central Square residents association, the Hampstead Garden Suburb residents association, the Hampstead Garden Suburb Trust, and the London Borough of Barnet, along with individual donations by other Suburb residents.
It was a hot summer's afternoon and a good crowd gathered under the shade of one of the Square's limes to hear a few words from the project's organiser Richard Townley, as well as designer Stephen Crisp, and the Mayor of Barnet, Councillor Brian Salinger.
Mike Freer and the Mayor then made use of the original spade used by Henrietta Barnett to 'turn the first sod' of earth in the foundation of the Hampstead Garden Suburb on 2 May 1907. Just over 110 years on, it was used again by Mr Freer and Mr Salinger to put the finishing touches to a scheme for Central Square which looks back to the original plans for the layout whilst making use of innovative planting to ensure a fresh new look.
Trust response to Golders Green Station Planning brief
Posted on 11 May 2017
The Hampstead Garden Suburb Trust's response to the Golders Green Station Planning Brief can be downloaded below: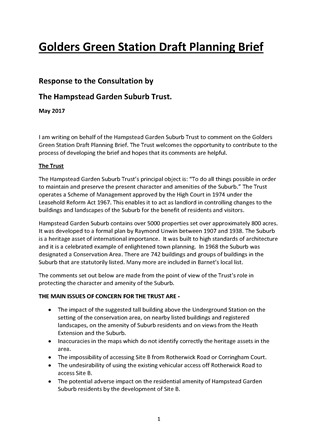 HGST Golders Green Station Planning Brief comments (5mb PDF)
Central Square flowerbeds update
Posted on 13 Mar 2017
After all the planting and bedding work that took place last autumn and winter, the Central Square flower beds continue to look fresher and more vibrant by the day, with Spring bulbs coming up to greet the sun.
The improvement work to the Central Square flower beds has been made possible with funding from The London Borough of Barnet (LBB), Hampstead Garden Suburb Trust (HGST), Hampstead Garden Suburb Residents Association (HGSRA) and Central Square Residents Association (CSRA), and residents of North and South Squares.
Bute Mews consultation
Posted on 25 Jan 2017
The Trust has received an application for consent to carry out the following works at Bute Mews, Market Place.

Demolition of existing garages and erection of 6no 2 storey houses; associated landscaping.

This application will be subject to an extended notification in accordance with the Trust's planning consultation policy.

The drawings are available to view on the Trust's website using this link.

If you are not able to view the plans on the website or prefer to view them in person, a member of staff will be pleased to show you the drawings at the Trust office. Please ring the office on 020 8455 1066 to make an appointment.

If you have any comments relating to these plans please write to or email us before Wednesday 8th March 2017. All comments received will be treated as confidential. Your views can be taken into account by the Trust Council in reaching their decision.