Become a Member of the Trust today
Posted on 29 May 2023
It's now even easier to become a Member of the Trust, or to renew.
We have an online form which takes less than a minute to complete. Paper forms are still available if you'd prefer to use those. Visit https://www.hgstrust.org/membership/ to find out more.
Membership of the Trust is open to all Suburb residents over the age of 18. It's separate to paying the management charge or ground rent - in fact, you only have to live on the Suburb to be a Member, you don't have to be a homeowner.
Being a Member means you support the conservation of Hampstead Garden Suburb, and you want to be kept up to date with the work of the Trust. You'll also receive copies of our annual report in the post, as well as invitations to events like our annual winter lecture.
You'll be kept updated on the Trust's AGM, and when there is an election for Trust Council, Members get to cast their votes for the candidates to decide the new resident trustees.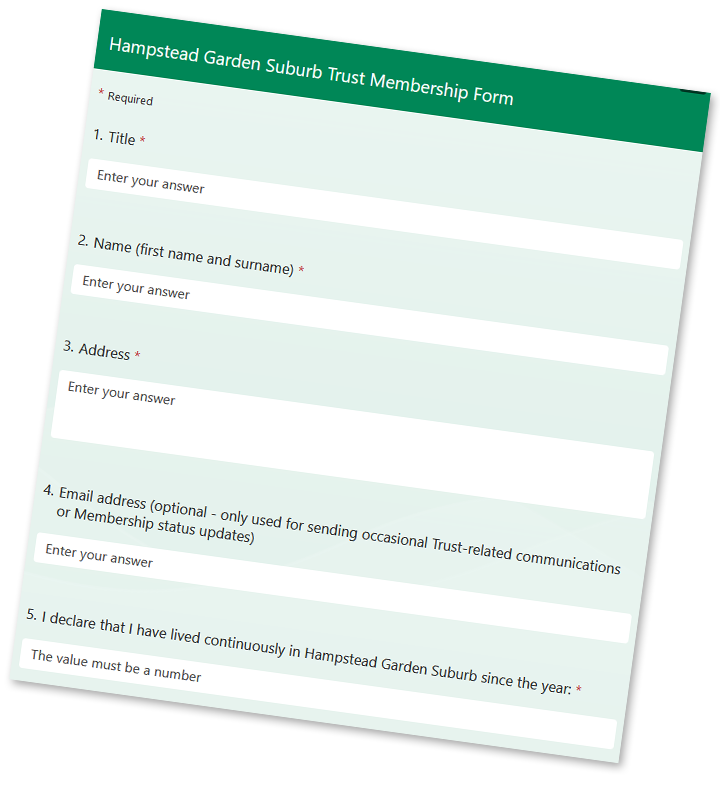 Membership is not automatic. You must apply to be a Member, and renew every three years when it expires.
Just visit https://www.hgstrust.org/membership/ and fill in the online form. We just need your name, address, and the year you became a resident of the Suburb. You can also give us an email address if you'd like to recieve occasional Trust-related communications or renewal reminders.
If you want to check your current Membership status, or find out more, send us an email: mail@hgstrust.org
Central Square Update
Posted on 17 Apr 2023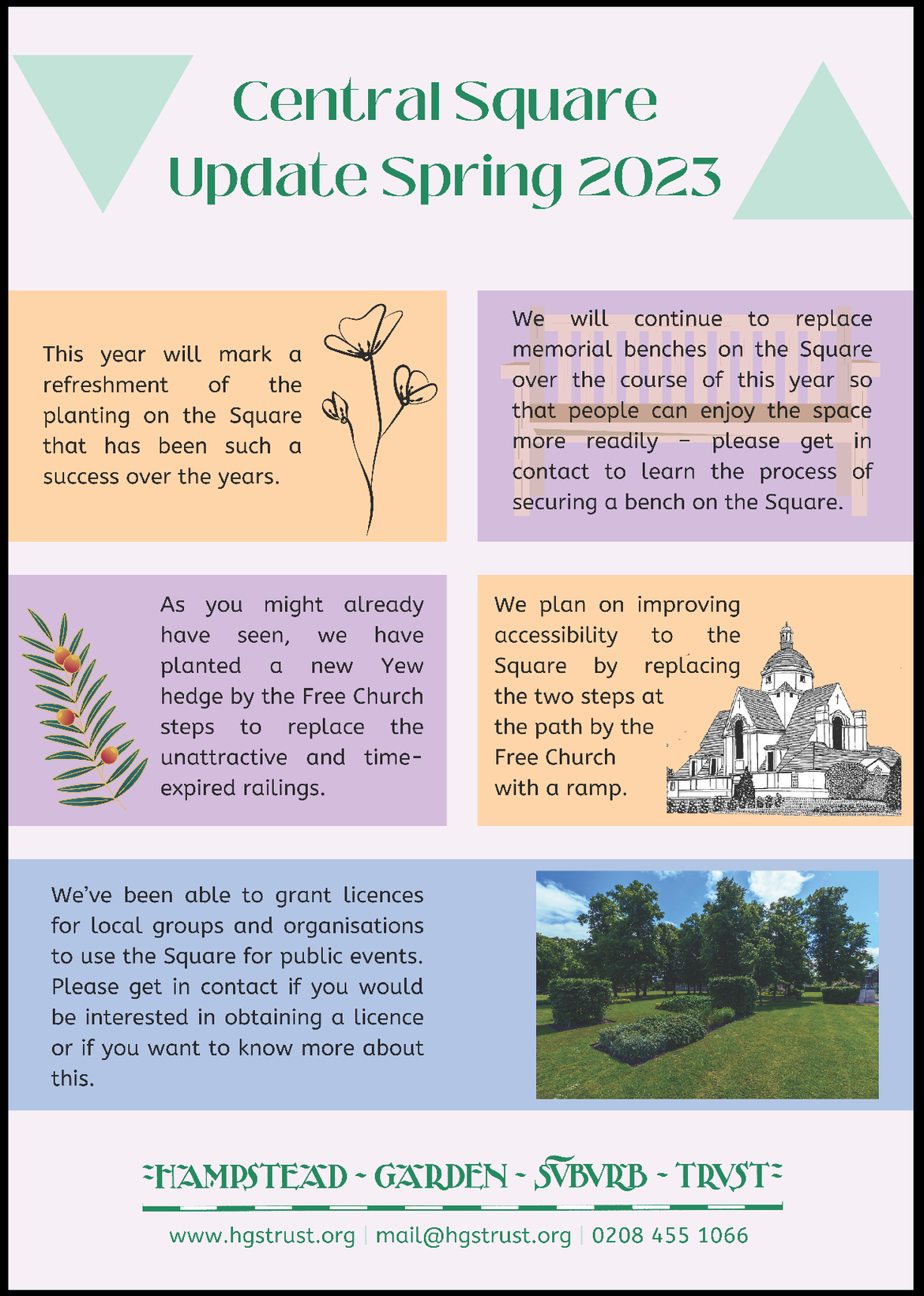 2022 Trust Council election results
Posted on 10 Oct 2022
The Trust has received the result of the 2022 Trustee election, which is reproduced below in the prescribed form.
The votes for this year's Trust Council election have been counted and verified by our auditors, Menzies. 237 valid ballot papers were received. There were nine rejected papers. Two resident Trustee positions were up for election, with three candidates standing. Gren Manuel received 151 votes. Maralyn Roberts received 132 votes. Richard Townley received 174 votes. Therefore Gren Manuel and Richard Townley have been elected as Trustees.
Click the below image to view the results PDF: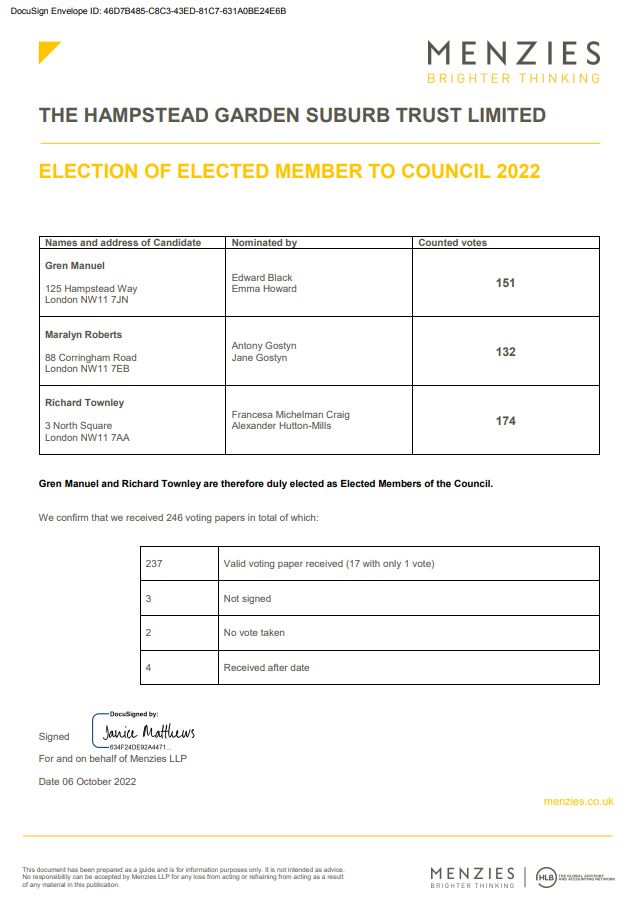 Notice of 2022 AGM
Posted on 30 Aug 2022
The Trust's 2022 AGM will be held at Henrietta Barnett School on Wednesday 21 September at 8pm.
Formal business will commence at 8.00pm but the doors will be open from 7.30pm, allowing a period for informal conversation over light refreshments before the formal business of the evening.
Details of the meeting and how to attend are set out in the formal notice downloadable here.
Copies of this notice have been sent by post, along with this year's annual report and accounts, to all registered Members of the Trust. (This mailout was scheduled for Friday 26 August, however owing to industrial action the mailout was delayed until Tuesday 30 August.)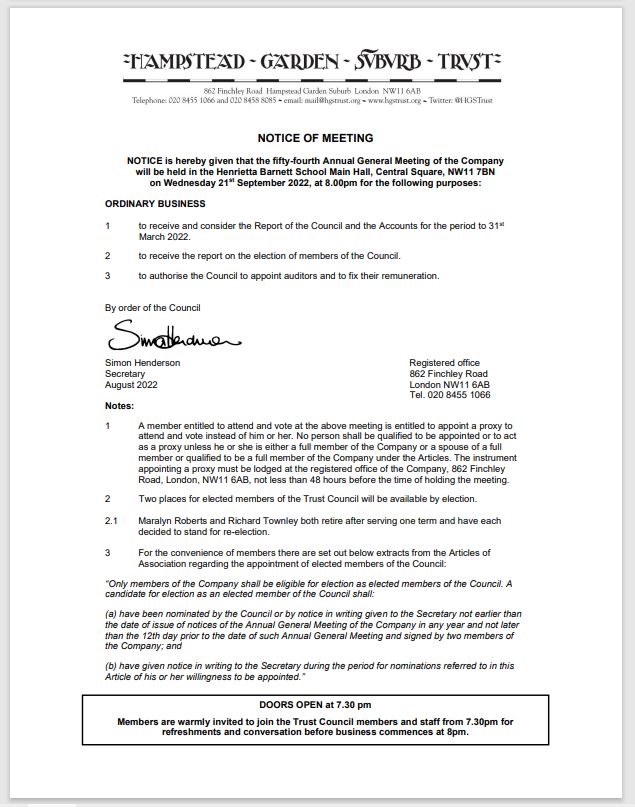 Click to download AGM notice (PDF)
Membership of the Trust is open to all residents of the Suburb, regardless of property ownership. Membership is entirely separate to payment of the management charge or ground rent, and is not automatic. You must return a signed Membership form to become a Member, and Membership must be renewed every three years by return of a signed form.
To check your Membership status, please email mail@hgstrust.org confirming your name and address, and we will let you know if you are currently a Member, when your current Membership expires, or we will send you a Membership form.
Trust takes back Central Square from Barnet
Posted on 08 Jun 2022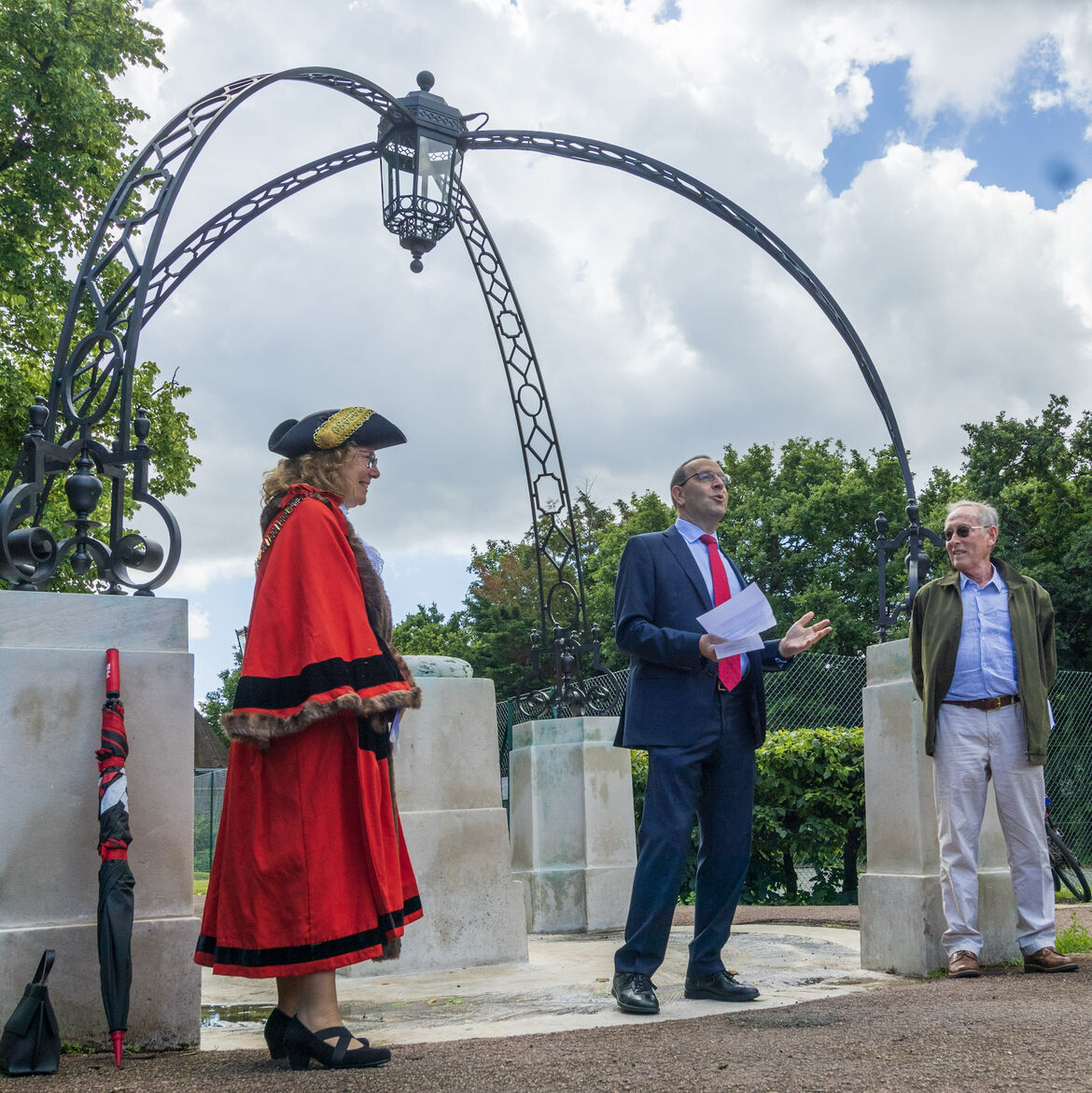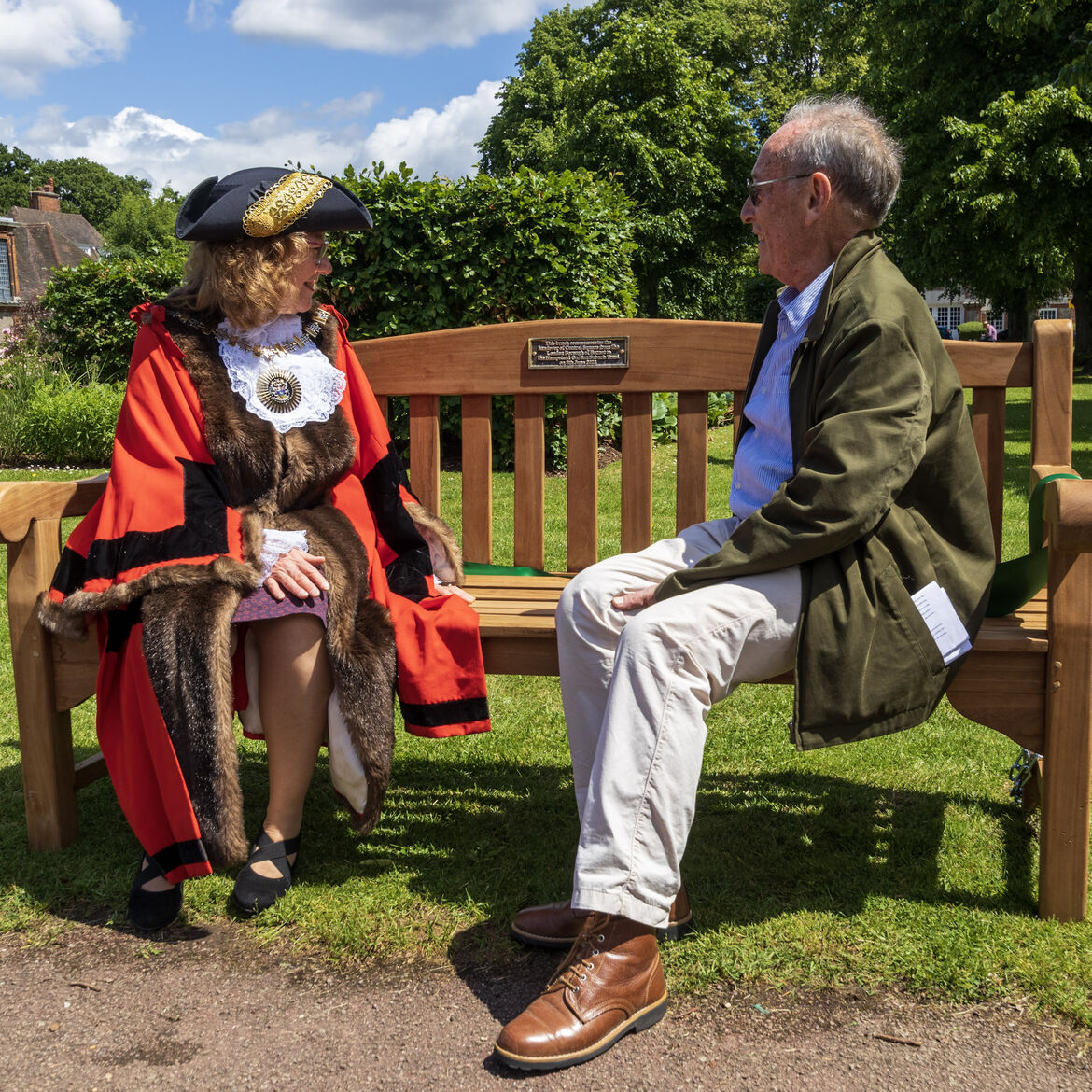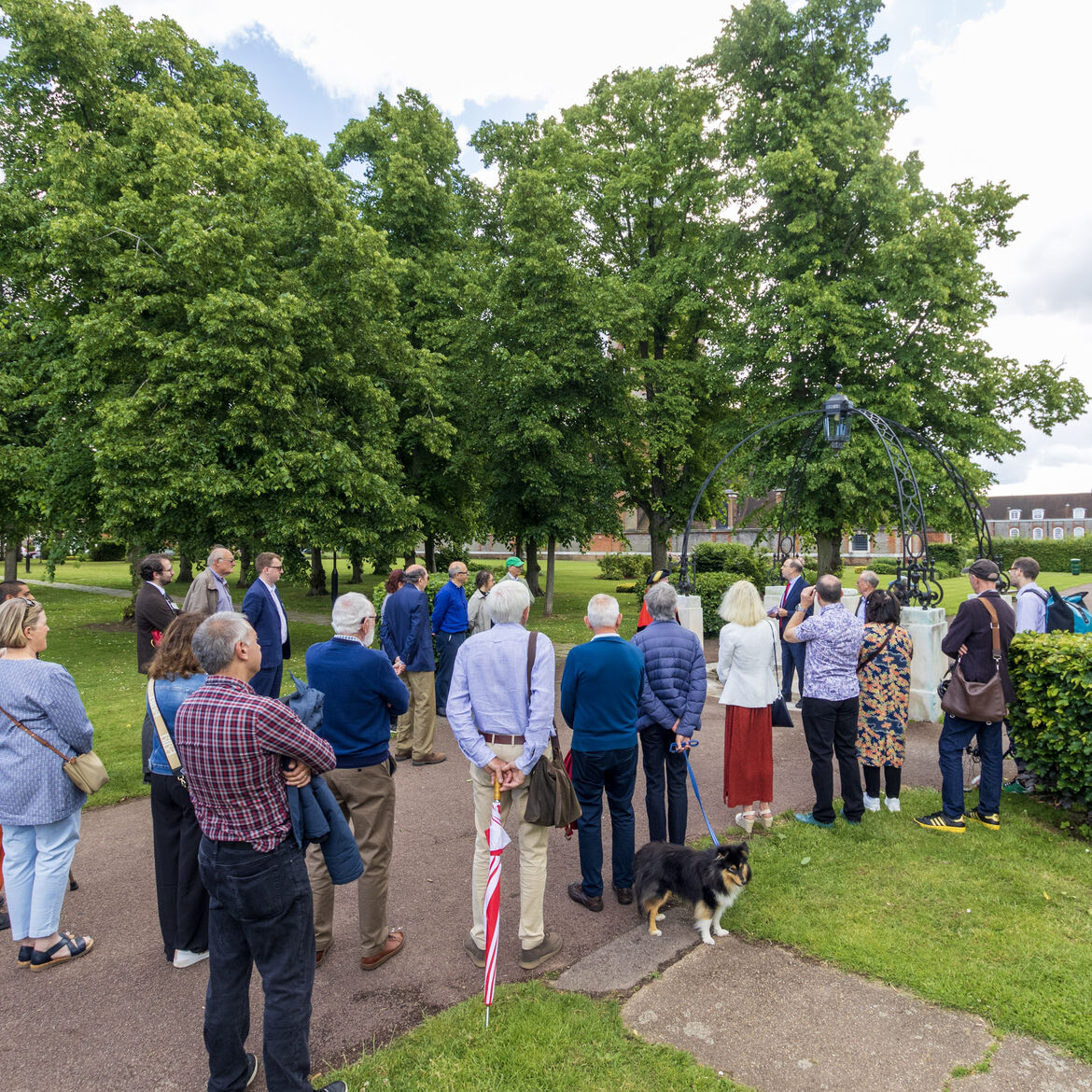 A momentous day for the Trust, as Central Square has been handed over to us from the London Borough of Barnet on a 999-year lease.
We were honoured to be joined by the Worshipful the Mayor of Barnet Cllr Alison Moore, and she joined Trust chairman Raymond Taylor and trustee Richard Townley, in addressing the invited gathering of a number of representatives of Suburb organisations and others who have been involved in this process, along with staff and other trustees of the Hampstead Garden Suburb Trust.
A bench has been placed on Central Square with a plaque to commemorate this historic transfer, which is the culmination of many years' collaboration between Barnet and the Trust.
Tribute was paid to the Trust's previous chairman Richard Wiseman who sadly passed away only recently.
The transfer of Central Square marks a continuation of the Trust's stewardship of Hampstead Garden Suburb in our duty to preserve the character and amenity of this special place.
Henrietta Barnett School 'Multi-Use Games Area' consultation
Posted on 23 Mar 2022
The Trust has received an application from Henrietta Barnett School for a Multi-Use Games Area (MUGA) on the school grounds.
Please follow this link if you wish to see the drawings and send in your comments. Comments must be received by 14/04/2022.
2021 Trust AGM
Posted on 26 Aug 2021
The Trust's 2021 Annual General Meeting is to be held on Thursday 30 September 2021 in-person at Fellowship House, and streamed via YouTube.
The safety concerns raised by the Covid-19 pandemic compelled the Trust to hold last year's AGM on-line via Zoom. While we were pleased that so many Members could join us, we believe that conditions are now right to offer the option of attending the meeting in person. We are therefore pleased to announce that the 2021 Trust AGM will be held at Fellowship House for those wishing to attend in person; and as a live-streamed event on YouTube for anyone preferring to attend remotely. In order to make safest use of the hall, attendance in person will be limited to the first 30 applicants.
Formal business will commence at 8.00pm but the doors will be open from 7.30pm, allowing a period for informal conversation over light refreshments before the formal business of the evening.
Details of the meeting and how to attend are set out in the formal Notice on the reverse of this letter (PDF), copies of which will shortly be sent out to Members by post along with a copy of this year's Annual Report and Accounts. For more information on Trust Membership, click here.
Suburb residents who want to check if they are currently a Trust Member are asked to email the Membership Secretary via mail@hgstrust.org with details of their full name and residential address.
DOORS OPEN at 7.30 pm
If you wish to attend the meeting either in person or remotely via YouTube, please confirm your preference by email to mail@hgstrust.org or by post to the Trust Office, no later than 5pm on Friday 24 September.
Members are warmly invited to join the Trust Council members and staff from 7.30pm for refreshments and conversation before business commences at 8pm.
New supplementary design guidance for securing Suburb homes published
Posted on 15 Mar 2021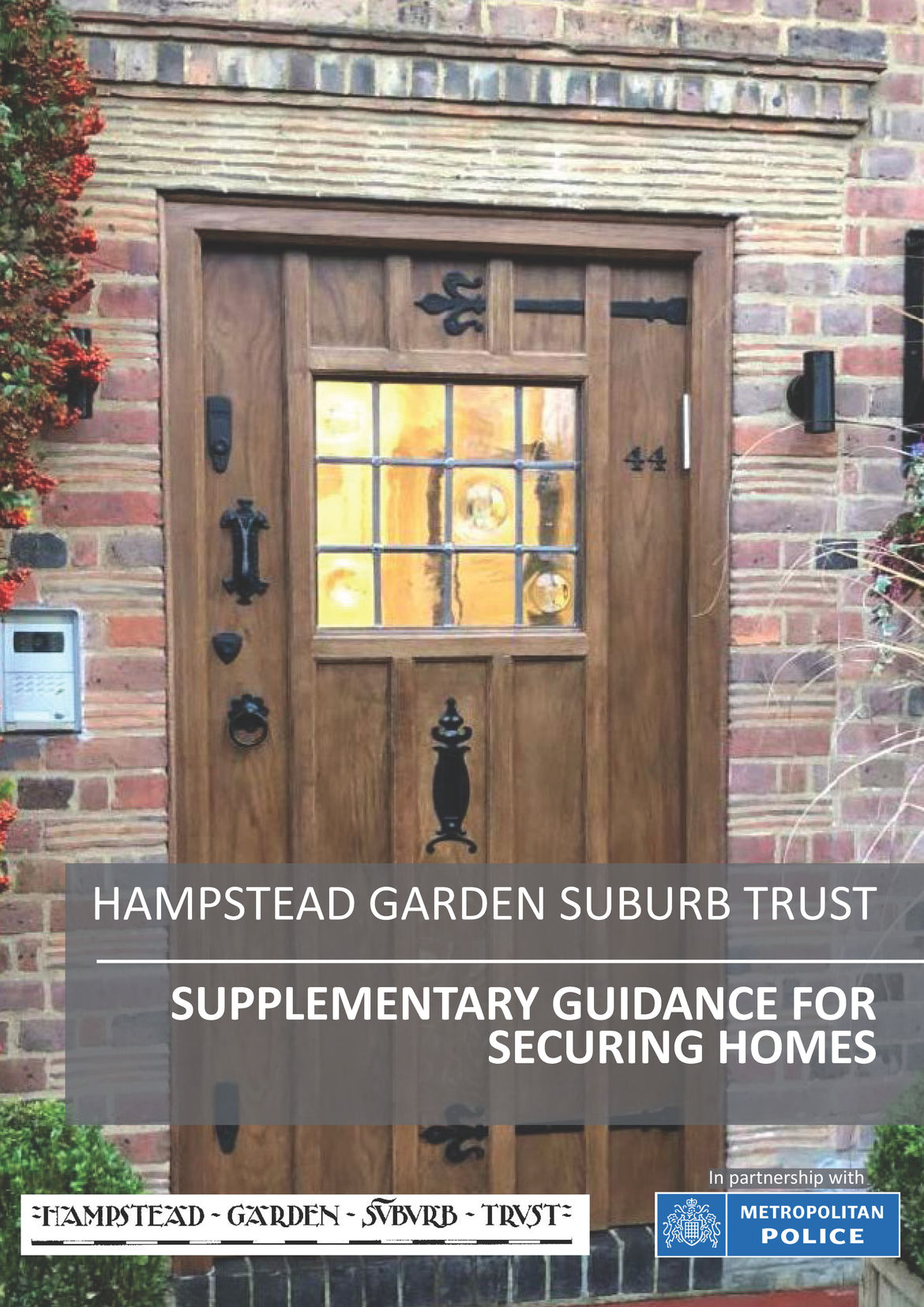 This pamphlet, written in conjunction with the Metropolitan Police, sets out supplementary guidance on security measures which can be implemented on homes in the Suburb.