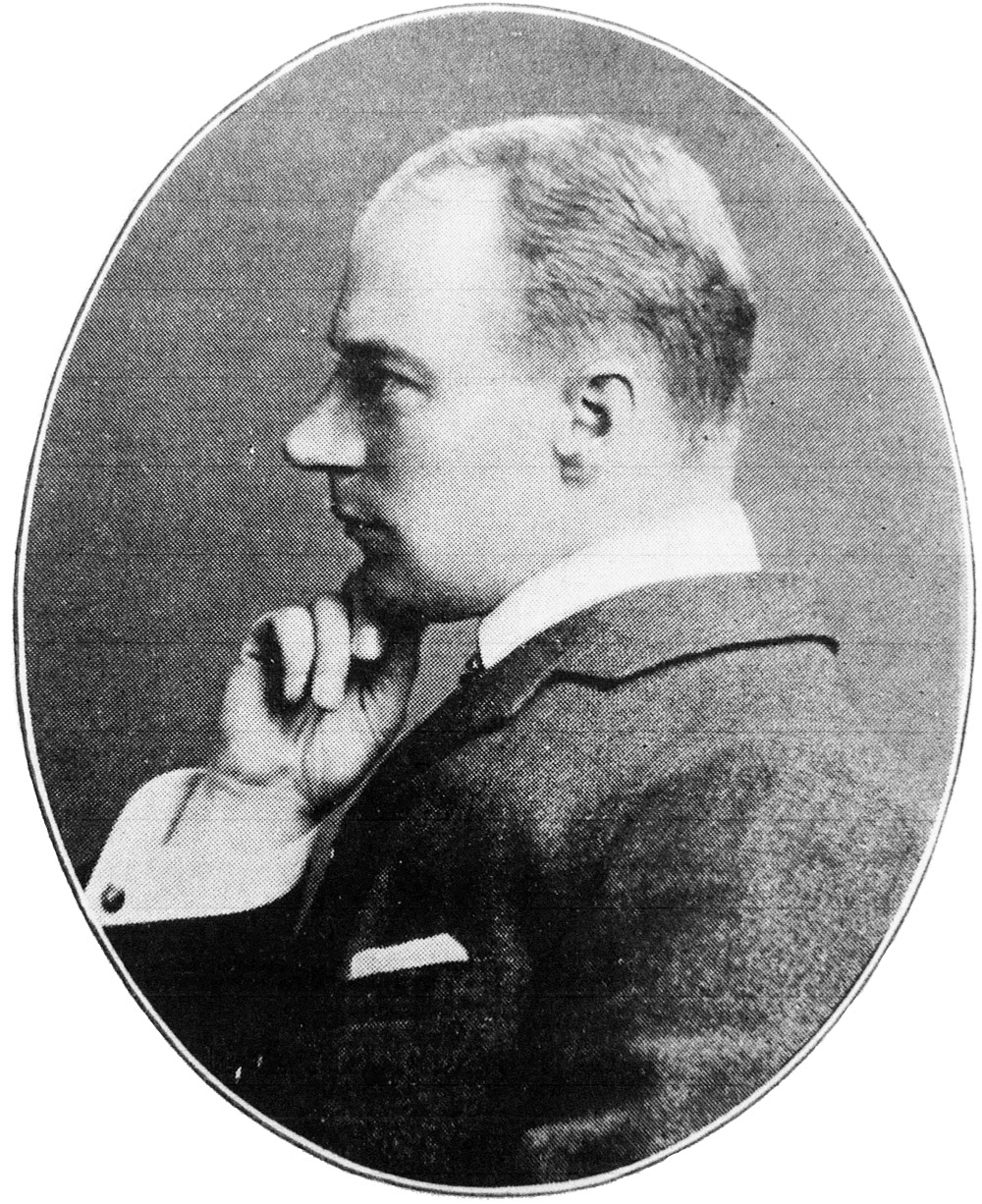 Hertfordshire County Archives
Geoffry Lucas was a talented and versatile architect with a national reputation who, in his most active years, designed large houses for private clients, built modest and charming homes for garden suburbs, and produced highly regarded ecclesiastical works.
Lucas designed a number of houses for the Hampstead Garden Suburb Development Company, as well as one-off houses for private clients in Bigwood Road and Southway. He was one of Unwin's favoured designers and his work reflected the best in domestic design, in harmony with Raymond Unwin's principles. His designs were used extensively to illustrate Town Planning and Modern Architecture at the Hampstead Garden Suburb, published in 1909 to promote the development. He contributed a total of 38 houses to the Suburb between 1908 and 1914.
This paper was prepared by the architectural historian Jacqueline Barnett BA (Hons) MA. Additional material was supplied by David Davidson, Architectural Adviser to the Hampstead Garden Suburb Trust.
INTRODUCTION
Thomas Geoffry Lucas was born in London on 6 June 1872 to Joseph Lucas (1834-1887) and Annie Smith (1844-1900), the only son of three children.
The Lucas' of Hitchin, Hertfordshire, were a well-respected family who gained their wealth through brewing and banking. The Lucas brewery of Hitchin existed until the end of the second-world war after which it was bought by a large conglomerate while the family banking business of Seebohm, Lucas and Tuke was bought by Barclays at the end of the 19th century.
Geoffry Lucas was brought up in a close-knit family of Quakers dating back to the 16th century. His mother was widely known as an advocate of temperance and a supporter of the anti-opium movement. She was a notable orator and, during the 1880s, was widely known throughout England, Scotland and Ireland in connection to her work with the Gospel temperance.
The Quaker movement, however, did not appeal to Lucas. In 1889, as he was about to embark on his architectural studies, Lucas decided to leave the Quakers and wrote to the Clerk of the Hitchin monthly meeting of the Friends of Quakers:
"After much thought, reading, consultation and prayer, I have decided that it would be for my spiritual good to leave the Society of Friends and to join the Church of England. ….I cannot undertake this change in my life without regret, but it is comforting to know it is not a change of the fundamental truths of religion."
Training and Early Career
Geoffry Lucas's architectural education commenced in 1889 aged 17. He initially went to the Royal Academy and subsequently took classes at the Architectural Association and the Royal Institute of British Architects. Whilst at the Architectural Association he won the AA Medal in Design in 1894 and, in the same year, the AA Lecture Medal.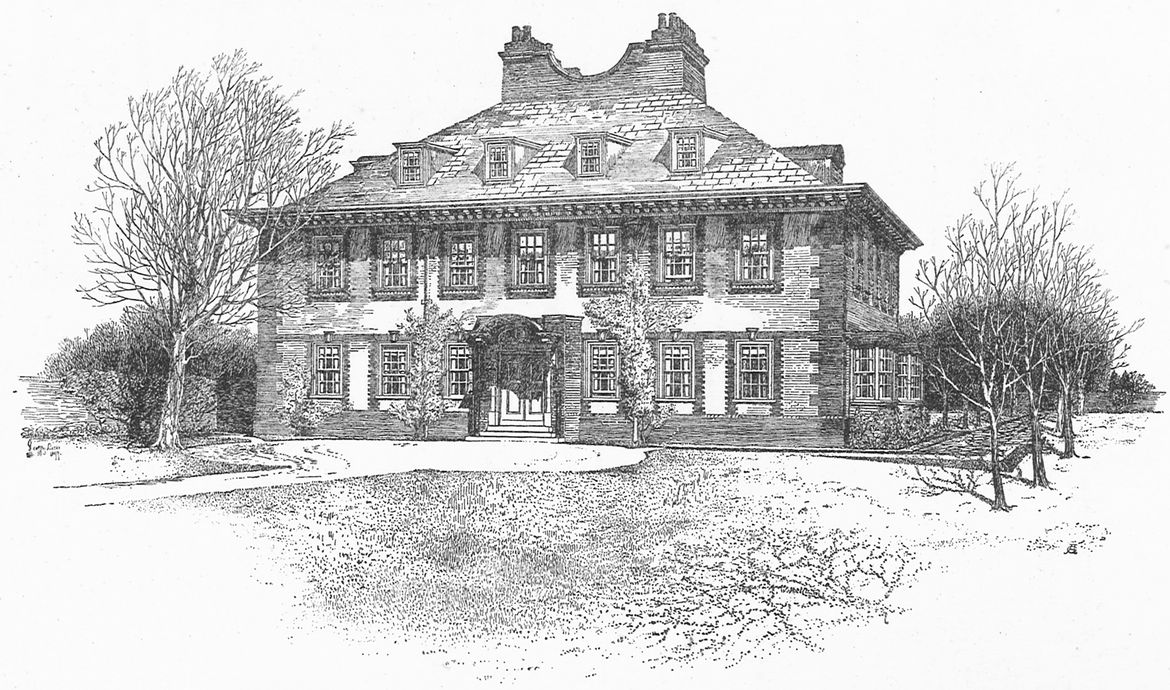 Lucas' drawing for Leonard Stokes
The British Home of Today, 1904
He completed his training articled to several architects including Walter J Nash Millard (1854-1936); William Flockhart (1854-1913); Frank Baggallay (1855-1930); Leonard Stokes (1858-1925); F A Walters (1840-1931); W Curtis Green; R Schultz and A Marshall Mackenzie. Baggallay and Stokes, together with E W Mountford (1855-1908), proposed Lucas as an Associate Member of the Royal Institute of British Architects in 1899.
To further his architectural studies he travelled widely throughout Europe, to Holland, Belgium and France and latterly to Germany, Austria, Hungary and Italy. His great passion was touring around England studying and drawing churches and vernacular houses.
Following his apprenticeships to a number of well-known and respected architects in London, at the age of 23 Lucas opened an architectural practice in his home-town of Hitchin in 1895. Many of his early commissions were in the vicinity of the town, and certainly within the county of Hertfordshire, including a number of private houses for high status patrons – some of whom were acquaintances through the family's banking and brewing business. His commissions were carried out "in a manner marked by good taste and well-studied detail."[1]
In 1901, six years after he had established his architectural practice, Lucas founded the Hitchin Society of Arts and Letters. The Society wanted to emulate the London Survey by recording and saving antiquities of the town and district, such as plans, drawings, views and manuscripts of worthy topics or of any buildings facing demolition. As Lucas said at the inaugural meeting:
"Among the objects to which the Society of Arts and Letters will tend its energies, I hope there will be included a systematic topographical survey of the town and country round, so that a record may be kept of the many interesting things existing within our reach…..before the bulldozers arrive to modernize the town and make alterations which were not in keeping with the architecture."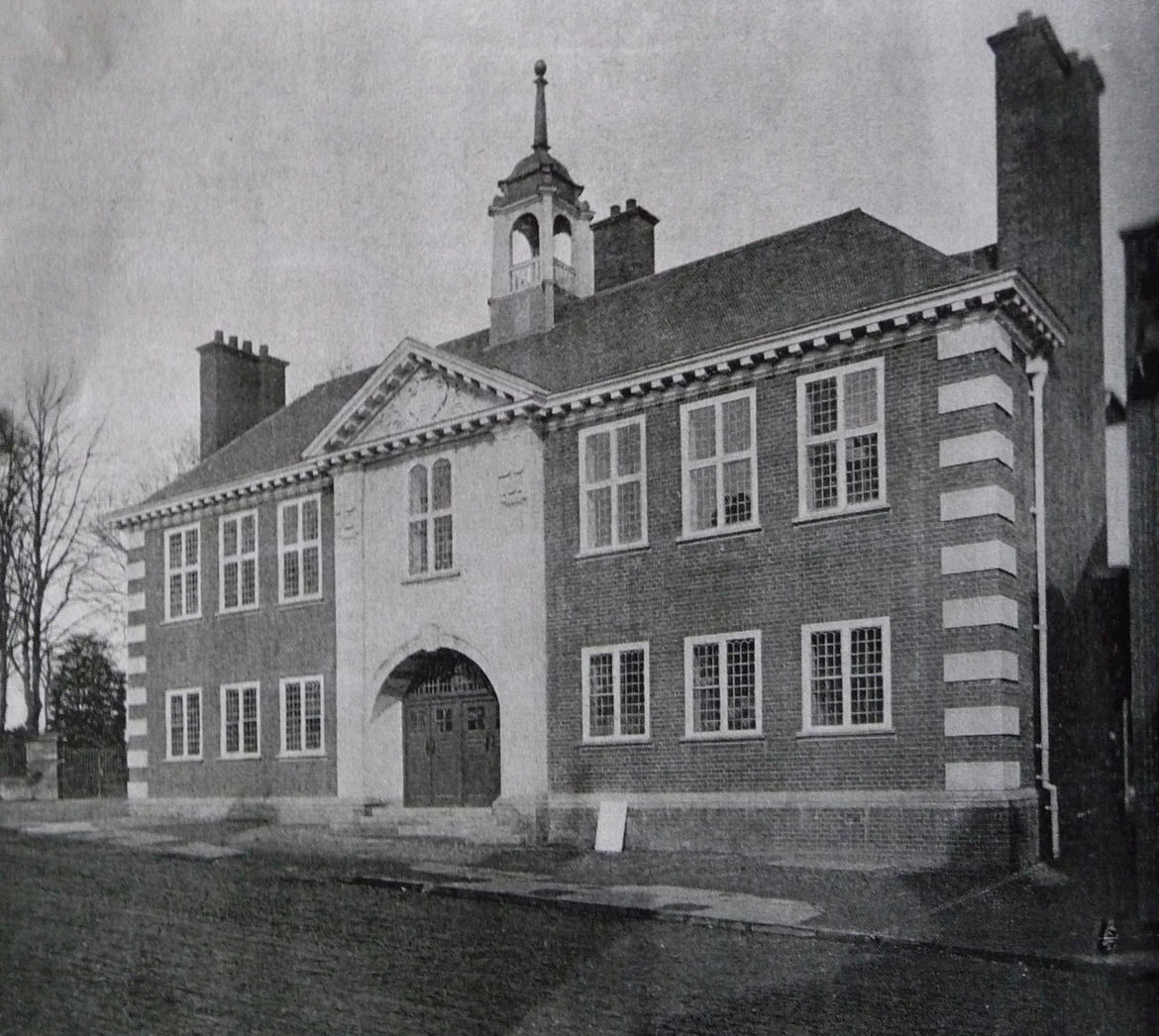 Hitchin Town Hall
Hertfordshire County Archives
The year 1901 also saw Lucas winning the competition to design the new Town Hall in Hitchin, together with E.W. Mountford. Mountford's style was lavish Edwardian Baroque, illustrated by his design for the Old Bailey which was built during this time. Lucas' style was less flamboyant. The combination resulted in a neo Georgian facade of 'Wrenaissance' influence with a rear hall in the Arts and Crafts style. The Town Hall successfully complements and harmonizes with the adjacent characterful buildings. It is now listed Grade II.
By this point Lucas' work was being published. Two of his designs for residential houses, Sand Hill Close, Hitchin and The Warren, Royston were featured in The Building News in 1902. The Builders Journal and the Architectural Record of 1902 also both featured The Warren. Sand Hill Close took a nod to the Arts and Craft vernacular whilst Royston featured a large expanse of mullioned and transomed fenestration. Both had characteristic roofs of deep gables made using locally sourced handmade tiles with accentuated chimneystacks.
In a limited competition in 1903, Lucas - together with Sydney Cranfield (1870-1961) - was asked by the Letchworth Garden City Company to submit a layout plan for the first Garden City in England, the realisation of Ebenezer Howard's ideas. They were competing against other established architects of the time - Lethaby and Ricardo, notable for their Arts and Crafts designs and Parker and Unwin for their socialist cottage housing ideas.
Lucas houses at Hitchin, left, and Royston
The Building News

The Lucas and Cranfield plan was rejected in favour of Parker and Unwin's. Nevertheless Lucas' designs for two short terraces of cottages in Paddocks Close were accepted and show an appreciation of vernacular architecture and picturesque effect. These houses were designed to cost under £150 per dwelling and were coined the £150 house. Of these houses he said: "Although simple, an effort has been made to obtain dignity and an architectural treatment without extravagance."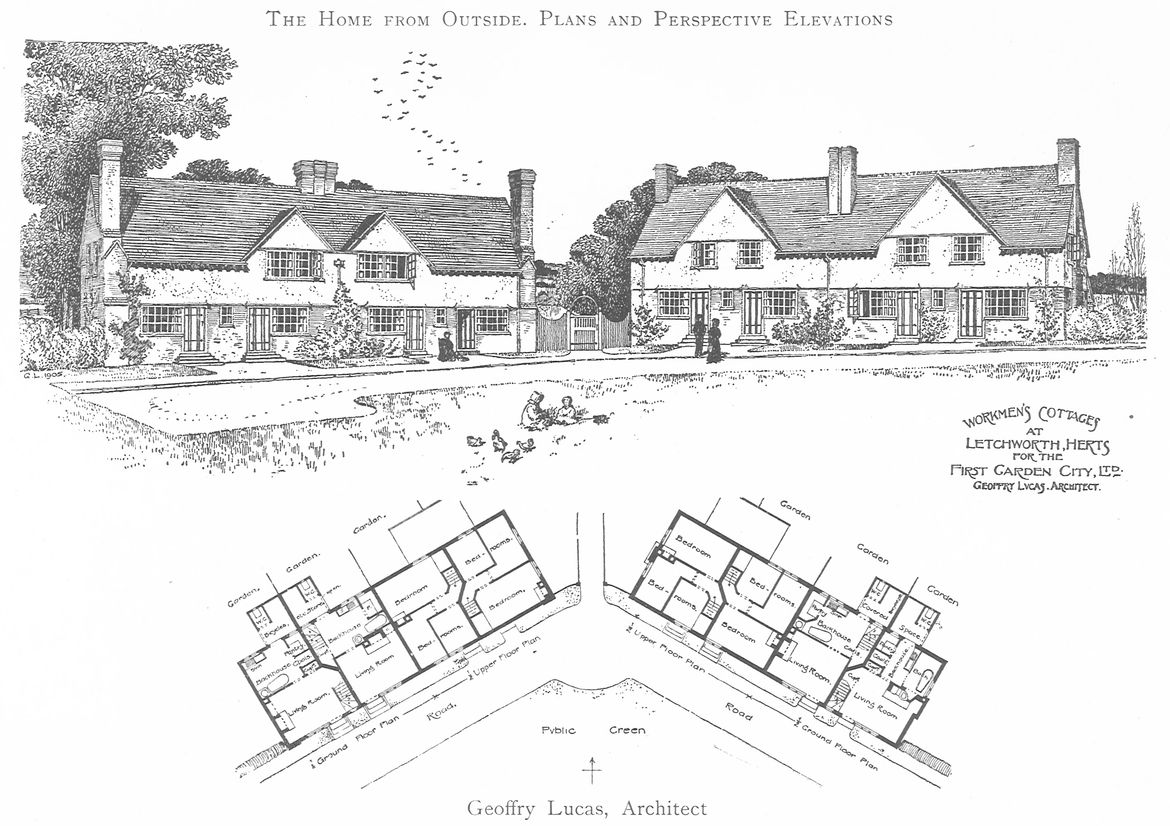 Pixmore Avenue, Letchworth
The Modern Home
An article in the Journal of the Architectural Association, 1905, described most of the designs at Letchworth Garden City to be underwhelming except for Lucas' cottages. They wrote of Lucas that he "seems to have struck the right note …in his two double cottages which harmonise so happily with the rural landscape."
Lucas also built 118-120 Wilbury Road for the cheap cottage competition entry and 129 – 131 Norton Way South, with their visually assertive four gables. Nos. 9,11 and 13 Norton Way North comprise an asymmetrical pair of semis and a detached house given the full garden city treatment with timber framed loggia, two storey bays and powerful chimneys.
In the intervening years between the creation of Letchworth Garden City in 1903 and Hampstead Garden Suburb in 1907, Lucas built a selection of substantial houses and modest cottages. These include a compact and picturesque Nurses' Cottage in Heathfield, Sussex (1904) and a cottage at the College for Lady Gardeners, at Glynde, Sussex (1906) with a timber framed front gable, and a large house at Poynders End, Hitchin (1905). All three properties were selected as fine examples of their type by Maurice Adams who featured them in his book Modern Cottage Architecture. Glynde was also included in Frank Verity's 1907 book Flats, Urban Houses and Cottage Homes and Poynders End in Lawrence Weaver's Small Country Houses of Today, 1922.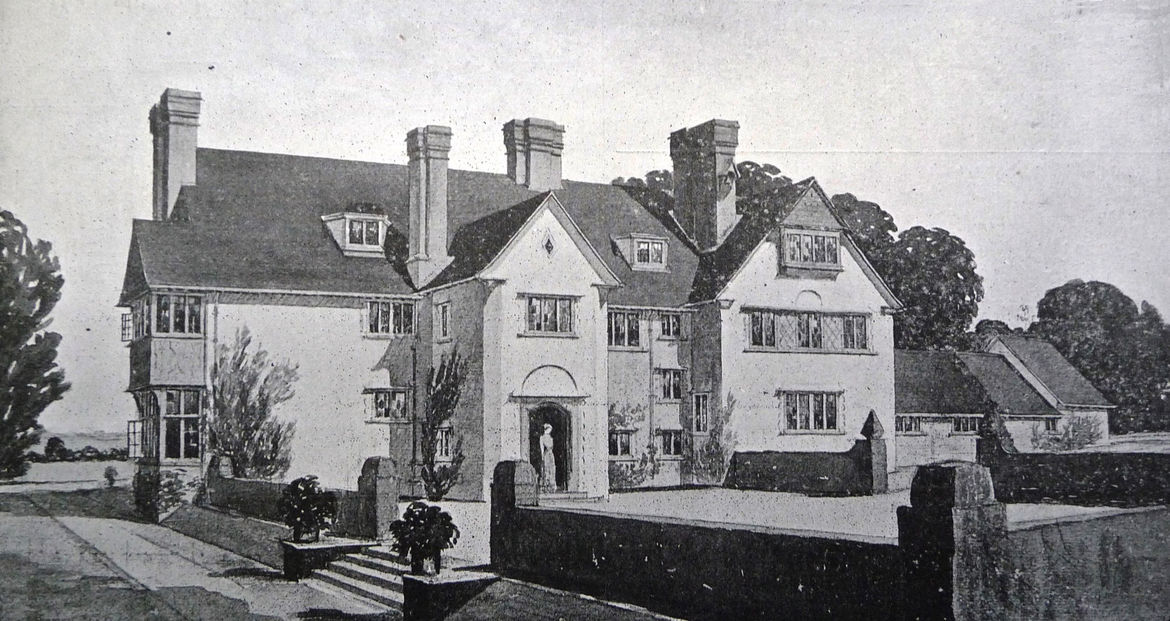 Poynders End

Poynders End was widely published in its day. Built in 1905 for the banker Hugh Seebohm, it is a house of breadth and texture. Lawrence Weaver though it showed Lucas to be "an architectural economist, winning his effects by simple disposition of mass, roof-line and gable, and with small aid from the minor building arts." The rather severe front elevation is enlivened by a two storey bay to the north east covered in sheet lead with decorative moulding detail. The garden front is given three full height bay windows from which to enjoy views over open country.
The unusual plan is focussed on a huge panelled hall leading to an external loggia. A heavy oak stair rises from an inner lobby and the dining room addresses the views from bay windows.
Yewlands, in Hoddesdon, Hertfordshire, was built for Mr. John Burton in 1909. A major house on a large site overlooking the New River, the elevations are finished in roughcast on a brick base and, for a large house, are very simply treated. The main masses are broken up to reduce its scale and given a riot of gables and chimneys. By contrast, the porch and stair, at the request of the client, is expressed in half timbering with brick infill, which sits somewhat awkwardly with Lucas' more restrained palette of materials.
Yewlands, Hoddesdon, Hertfordshire
Domestic Architecture

Inside, the hall and staircase are oak panelled. All floors are oak, fireplaces are purpose made and ceilings are embellished with cast plaster ornamentation on the beams and borders.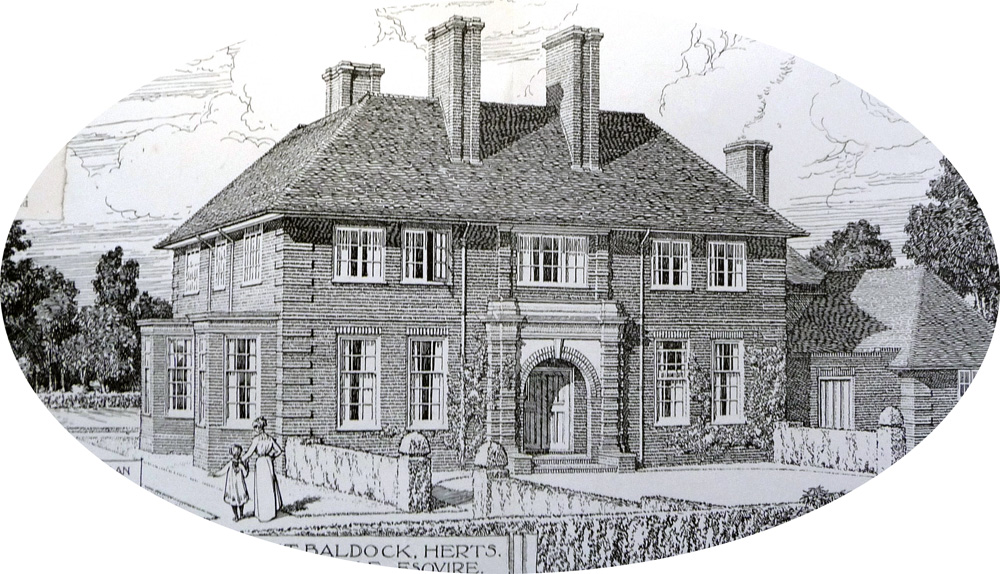 Baldock, Hertfordshire
The Builders' Journal
A further large house of 1909 in Baldock for William Sale displays a different architectural approach. Lucas gave his client a compact Georgian Revival house in brick with big tiled roof and strong chimneys. At the front, a central door is recessed behind a brick arch with decorative plaster spandrels and the fenestration is treated with tall sliding sashes on the ground floor and squat casements on the first floor. The drawing and dining rooms on the garden elevation are given canted bays. The house survives, greatly extended, as Baldock Manor Rehabilitation Hospital on the London Road south of Baldock.
A group of four cottages in Blanche Lane, South Mimms, built in 1906 for V.B. Tritton illustrate Lucas' interest in contrasting vertical and horizontal forms. The context is an existing village street and it abuts a terrace of older cottages to the right.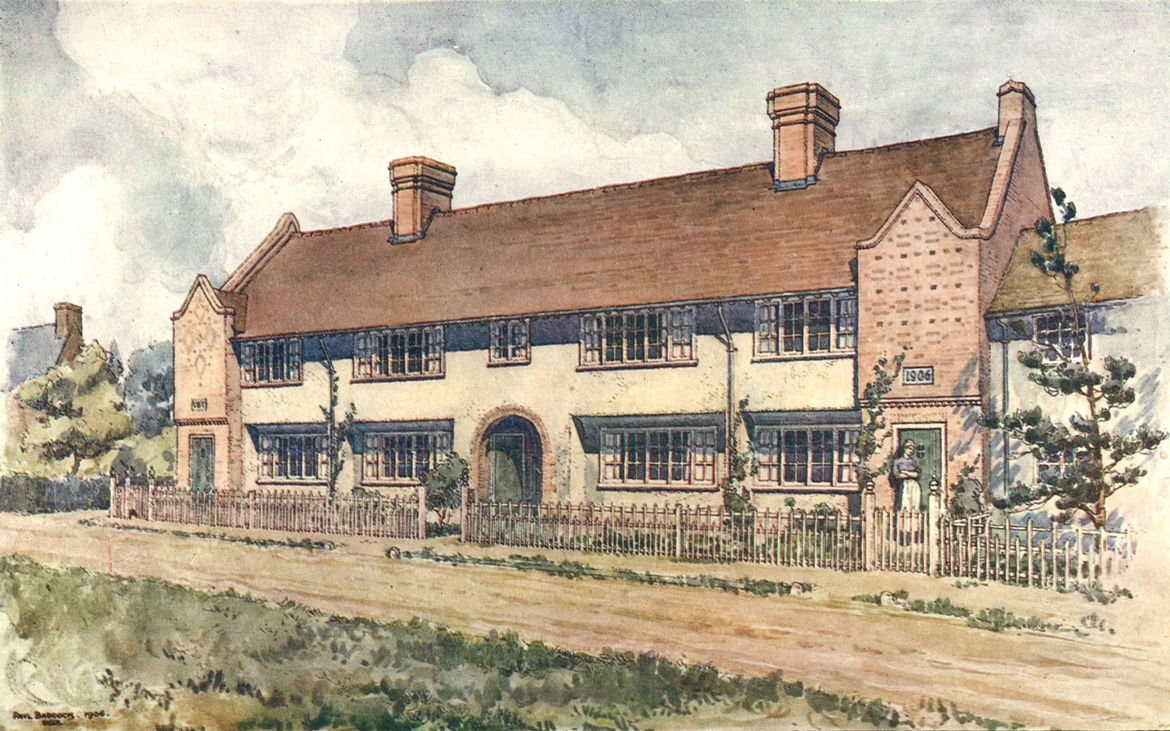 Blanche Lane, South Mimms
The Modern Home
The composition is framed by the blank brick entrance gables to the end cottages and the main body of the terrace is given horizontal windows and finished in roughcast. The roofs were covered in old tiles from demolished cottages. These just pre-date Lucas' Suburb work and his mature style is developing.
HAMPSTEAD GARDEN SUBURB
The masterplan for Hampstead Garden Suburb was drawn up by Raymond Unwin (1863-1940), the winner of the Letchworth Garden City competition. Building began in 1907 and, as consultant architect, Unwin selected a group of like-minded architects, many of whom were the leading lights of Edwardian domestic architecture whose work he admired. These he trusted to implement his designs and fulfil the vision of an English village with English vernacular architecture. Regarding Lucas, Unwin particularly admired the fact that he was an architect who carefully studied old English cottage styles, particularly those of the Cotswold district, which Unwin also considered to be the best of traditional English domestic architecture. Lucas' vernacular houses reflected a vision of pre-War Britain, and his work at Letchworth would also have been known to Unwin, particularly as he won both award and acclaim for his £150 house. The architectural historian Gavin Stamp described Hampstead Garden Suburb:
"Here may be found many excellent examples of the architecture of the years before the Great War shattered English civilization ….more romantically vernacular [than Lutyens] is the group of houses by Geoffry Lucas which illustrates all the carefulness, subtlety, elegance and stylishness of this glorious period of architecture." [2]
In all, Geoffry Lucas designed 38 houses in the Suburb. The leases for all these houses date from 1907/1908.
A GUIDE TO LUCAS' HAMPSTEAD GARDEN SUBURB HOUSES
16 Bigwood Road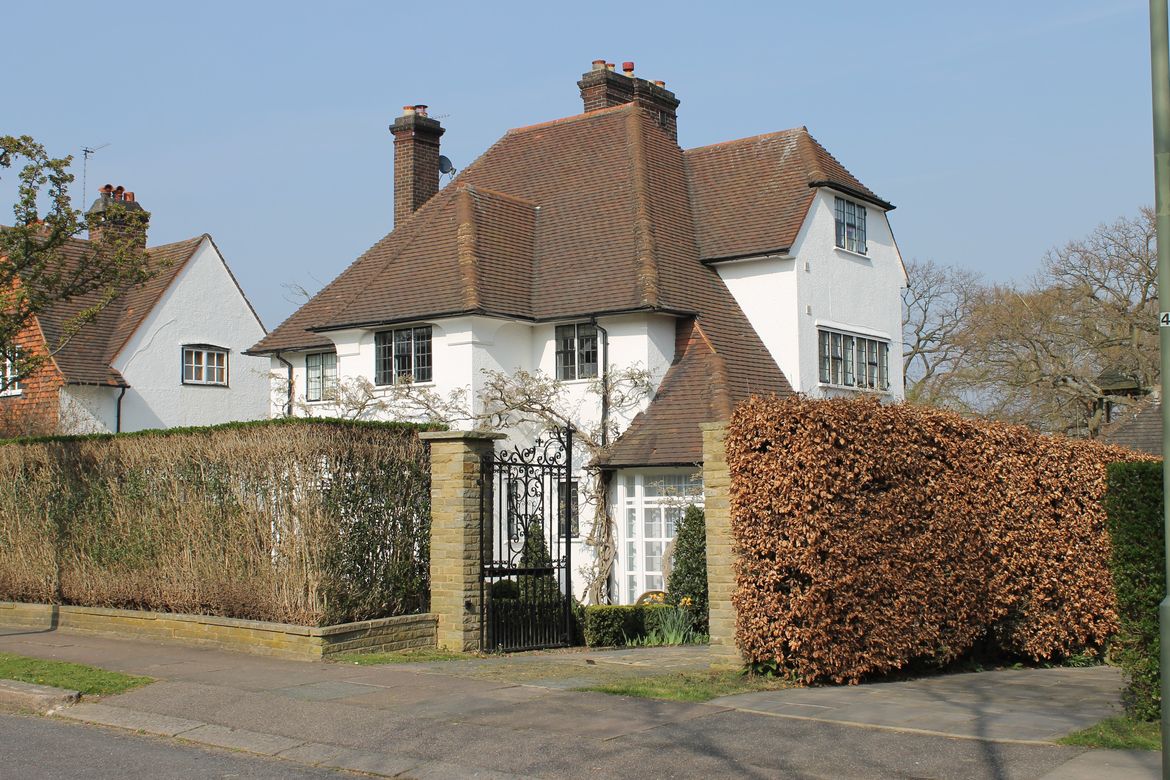 16 Bigwood Road
The lease for 16 Bigwood Road, Plot 338 on the estate plan, dates from 1907. The plans for the house were drawn up in 1910 for a Miss Evelyn Maude Lang, with a layout quite specific to his clients' requirements.
It is a detached house on a large plot with much attention being given to the varied roof planes, this property was one of Lucas' most ambitious designs in the Suburb. The ground floor consisted of a 'dining hall' and interconnected 'long parlour', each with a separate door to the front porch. Upstairs were five bedrooms. Miss Lang was a spinster who lived with a nurse companion, a cook and a manservant. She died in 1915. The next resident was Mr Alfred Reynolds who lived there from 1921 to 1926. Between 1950 and 1964 the house was owned by Sir Colin Coote, Editor of the Daily Telegraph.
16 and 18 Erskine Hill
The pair of houses at 16 and 18 Erskine Hill create a wonderful picturesque outline with oversized chimney stacks pushed to the front of the property for greater impact. To continue the vertical theme of the chimney stacks the houses boast two storey gabled bays giving two very modest houses a rather strong presence. Lucas further plays with the proportions and form and contrast by adding a huge roof with a small dormer window.
From 1913 number 16 became the residence of the Rev. Horace Edward Hall MA who lived there until 1922. The next resident was Mr Charles Wallace Hammond. The 1913 Street Directory show that the resident for 18 was Mr Charles Hopson who died in 1920 but his wife continued to occupy the house until the mid-1920s.

16 and 18 Erskine Hill
London Metropolitan Archives / Suburb Archives
30 Hampstead Way
Designed by Lucas in 1908 for Charles James Tait esq., but destroyed in the Second World War and rebuilt in 1950.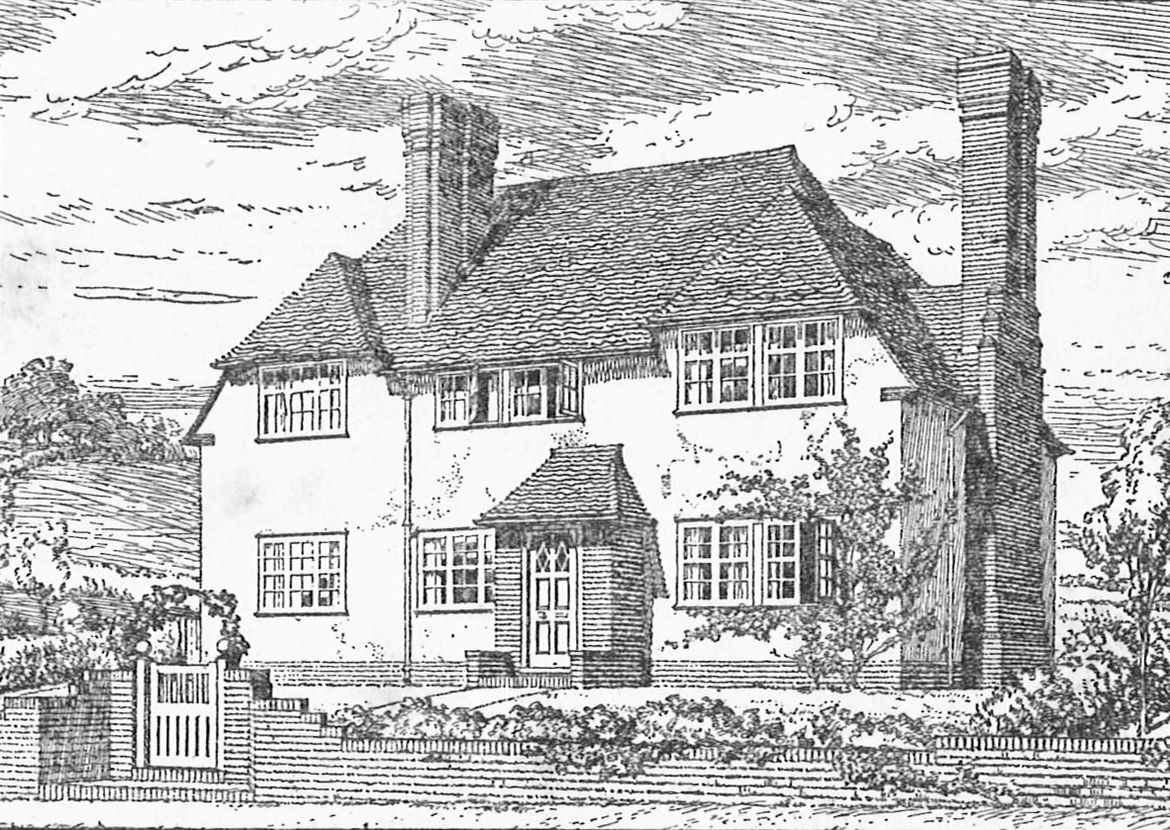 30 Hampstead Way
Garden Suburbs, Town Planning and Modern Architecture, 1910
42 Hampstead Way
42 Hampstead Way is a detached house situated on the corner of the junction between Hampstead Way and Willifield Way. The first lessee recorded in 1913 was a Mr J C Millington, a printer of Grayshott, Hampshire.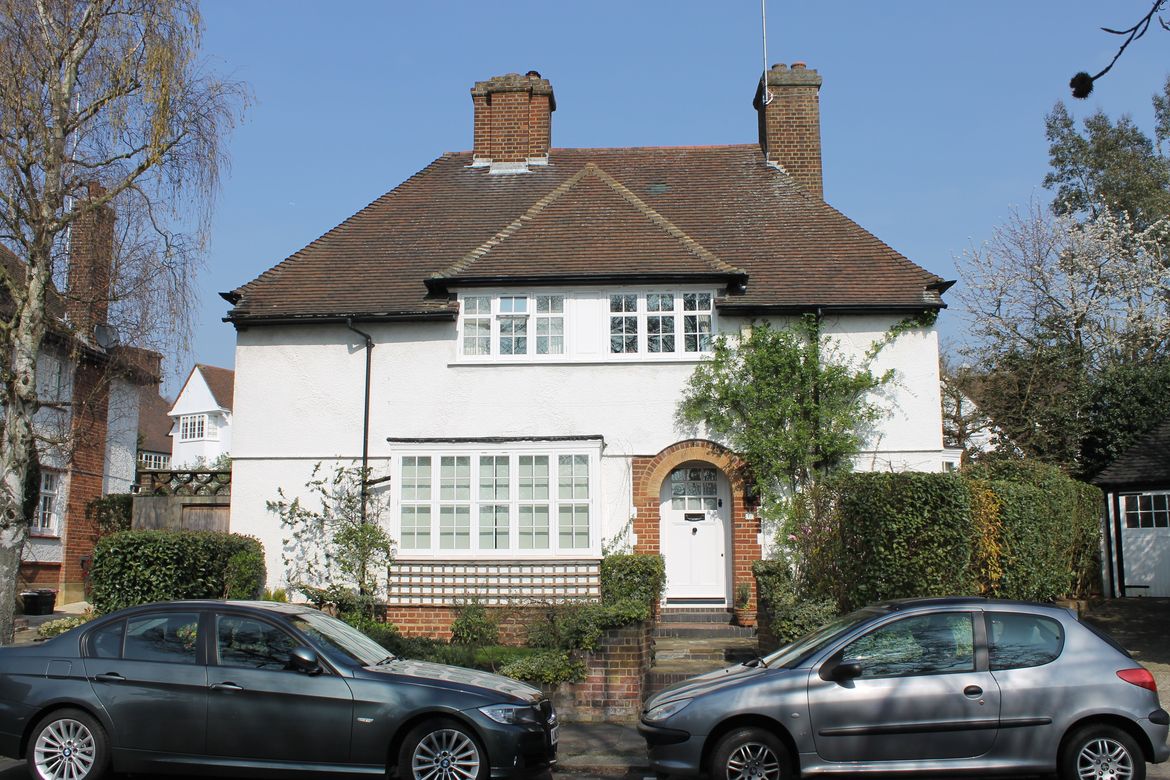 42 Hampstead Way
125 and 127 Hampstead Way
A pair of houses with different plans, a common feature of Lucas' semi-detached houses.
Herbert Lorrimer Walker was the first resident of number 125 and Percival Charles Lyel the first listed resident of number 127.
The plan illustrates Lucas' fondness for asymmetrical planning. The kitchen is accessed through living room rather than from the hall.
125 and 127 Hampstead Way
London Metropolitan Archives / Suburb Archives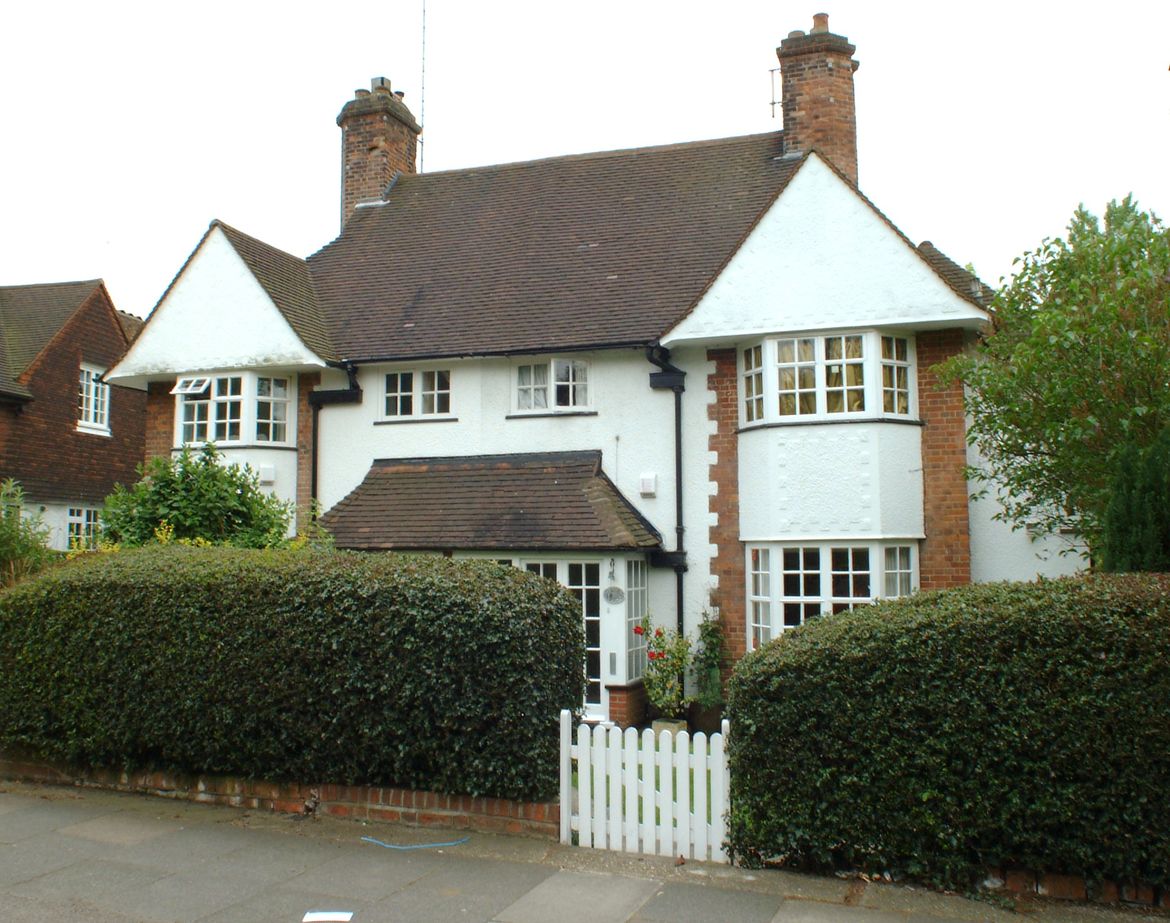 125 and 127 Hampstead Way
60-82 Hampstead Way - Lucas Square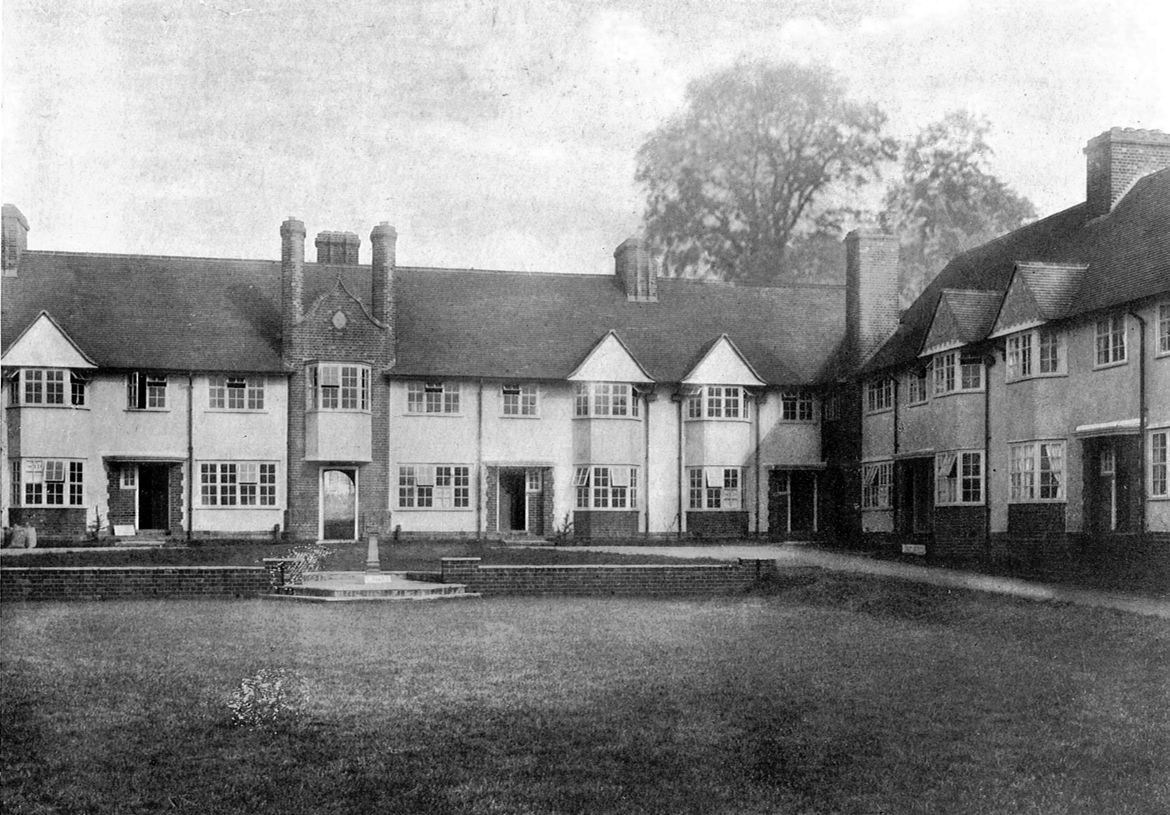 Lucas Square, Hampstead Way
Garden Suburbs, Town Planning and Modern Architecture, 1910
Numbers 60-82 Hampstead Way are a group of houses built around a large green named Lucas Square after the architect. Pevsner, described the square as fussy. [3]
The layout is representative of Raymond Unwin's ideas on communal housing layouts where the quadrangle is the fundamental arrangement for collective house designs. "Nothing is gained by overcrowding," quoted Unwin in the Fabian Society magazine in 1902 discussing the social nature of house layout. [4]
The two end houses are purposely turned to face the road to encourage the visitor into the square, creating a more welcoming leitmotif than had those houses been turned inwards.
The chimney-stacks sit prominently, creating a strong feature of verticality which is repeated in the double height bays. The bay windows offer excellent ventilation, particularly in the main bedroom. Fresh air, sanitation and a concept of healthier living were strong features of house design at this time. Indeed, the sunken green originally designed as a tennis court was to encourage exercise for a healthier mind and body.
A handsome brick wall is situated at the entrance to the square imparting a grandness to these modest cottages. Originally designed with a summer house, but never executed.
The 1913 Street Directory lists a large proportion of female occupants living in six out of the eleven houses.
25-45 Willifield Way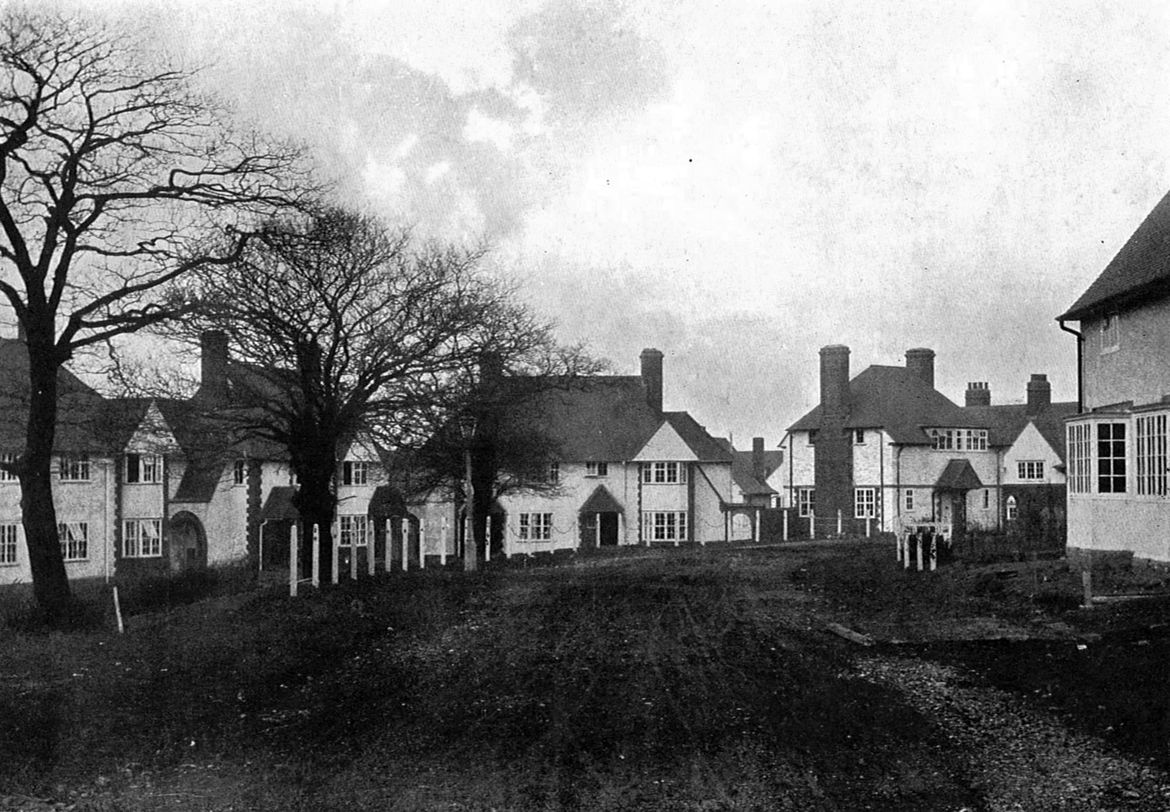 Lucas Crescent and Willifield Way
Town Planning and Modern Architecture at the Hampstead Garden Suburb, 1909
An excerpt from the Town Planning Conference brochure of 1910 described Lucas' houses in Willifield Way in the following terms: [5]
"A group round the green in Willifield Way – these are the sort of houses that on ordinary building estates are represented by rows of identical brick boxes. Only the parliamentary powers obtained by the Hampstead Garden Suburb Trust, which override the rigidity of local bye-laws, render this sort of grouping possible. The result is to give every house in the little group an individuality and charm which add greatly to its value from a commercial as well as from an aesthetic point of view."
Nos 25-45 Willifield Way, named Lucas Crescent after the architect, are in yellow and red brick, set back from the road around retained mature Oak trees. An interesting and lively collection of small cottages. The houses are designed in pairs, some with double height bay windows, some with pretty timber porches, covering one or two entrances. Interestingly, as with Lucas Square, the 1913 Street Directory reveals that half of the houses were occupied by single women.
No 47 Willifield Way
47 Willifield Way is a detached double fronted house at the junction of Lucas Crescent but sitting square on to Willifield Way. A wide bay window comprising seven casements sits proudly above the front porch. Lucas often combined windows for horizontal emphasis.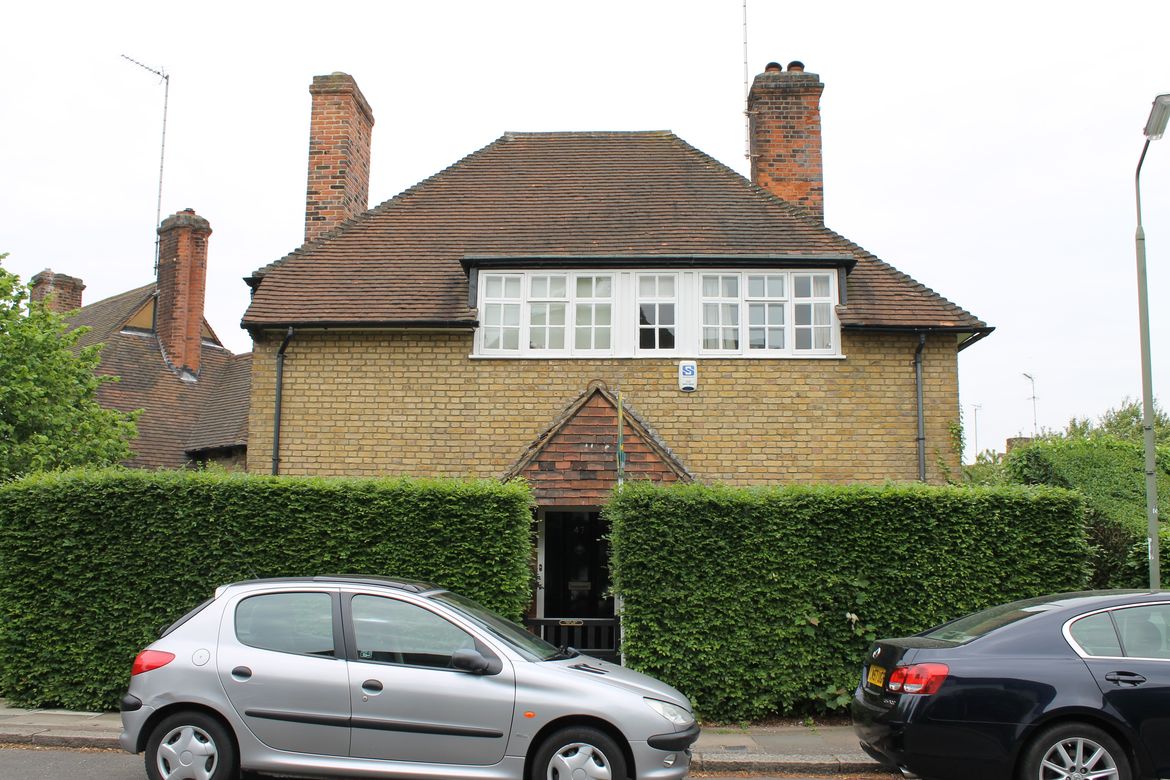 47 Willifield Way
No 9-23 Willifield Way
These houses follow a similar style to Lucas' houses in Erskine Hill. They have deep pitch roofs, tall oversized chimneys brought to the front and very wide fenestration. They are generous large houses with wide bays featuring pargetting detail on the bays. All are slightly different at the rear, possibly owing to personal preference by the client who took the lease off the plans.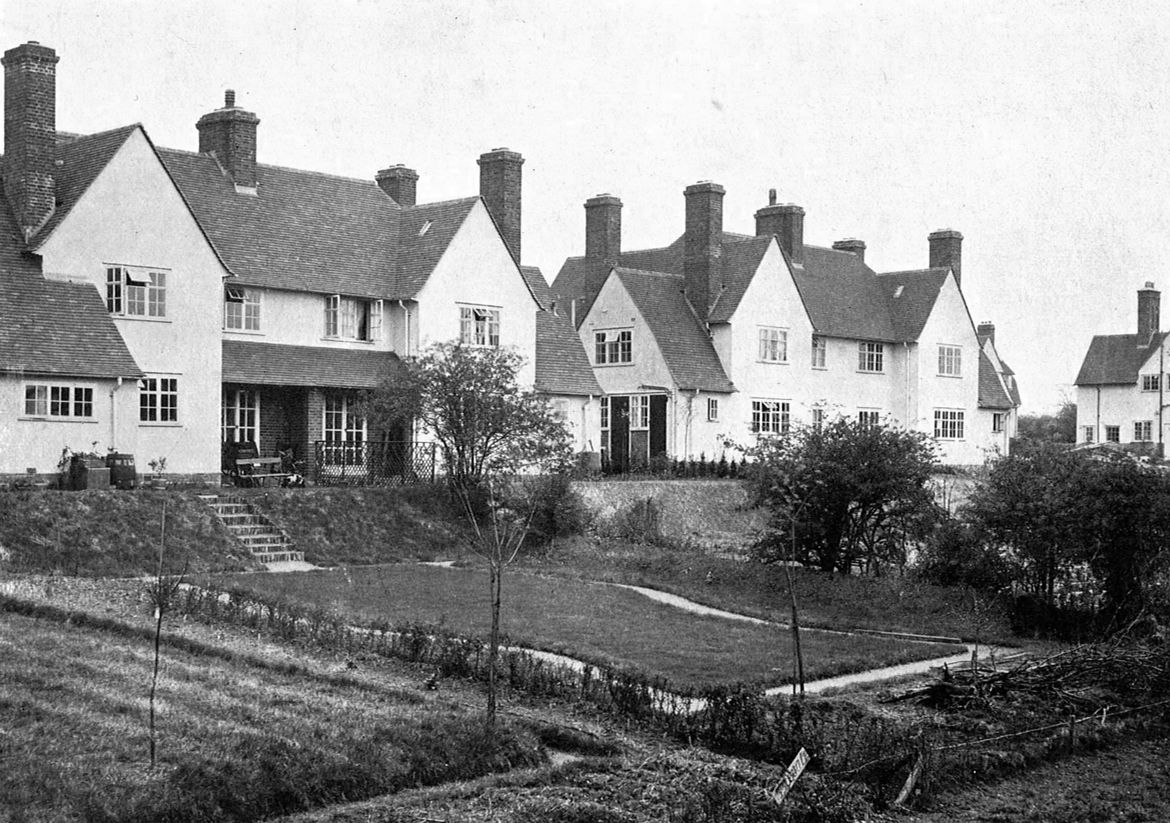 Rear of Willifield Way houses
Town Planning and Modern Architecture at the Hampstead Garden Suburb, 1909
10 Southway – The Studio House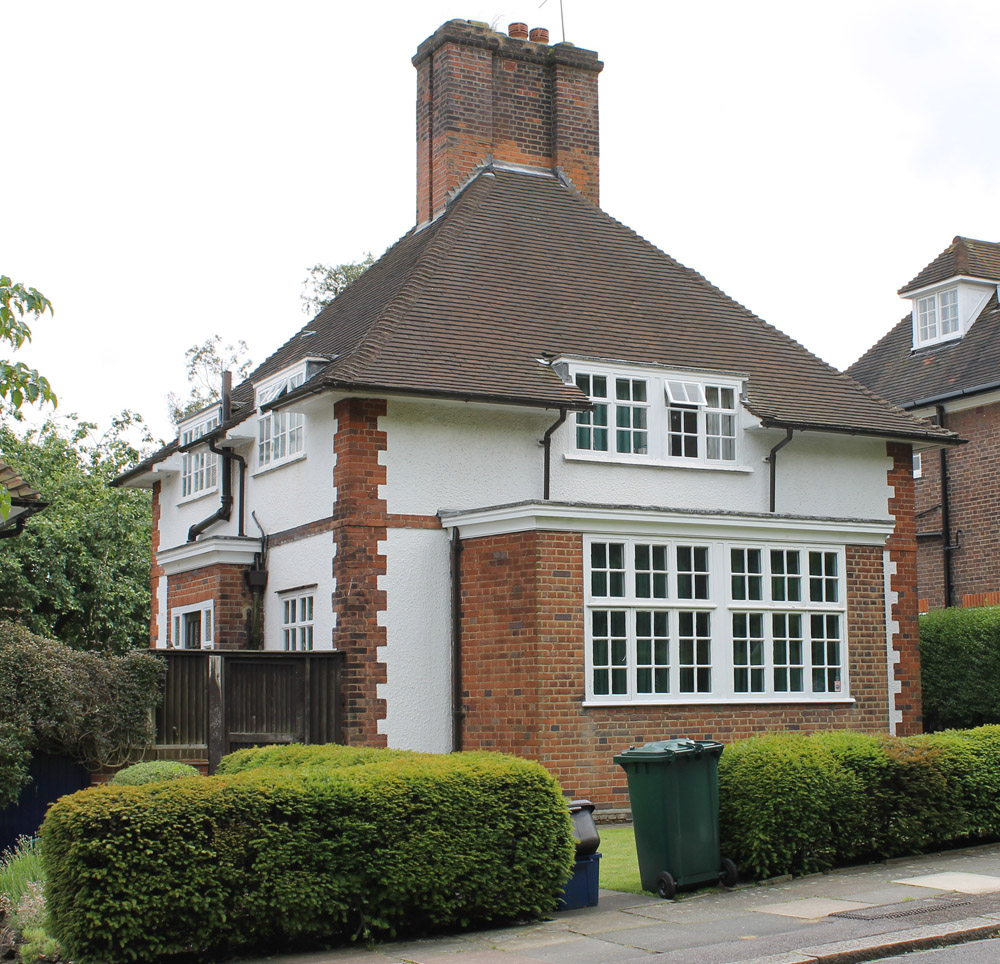 10 Southway

Commissioned in 1909 by the Australian artist Tom Roberts (1856-1931) to his specific requirements, No. 10 Southway is an ingeniously planned, square studio house [6] with a central chimney stack and a large north facing room on the ground floor which served as the artist's studio (below, left).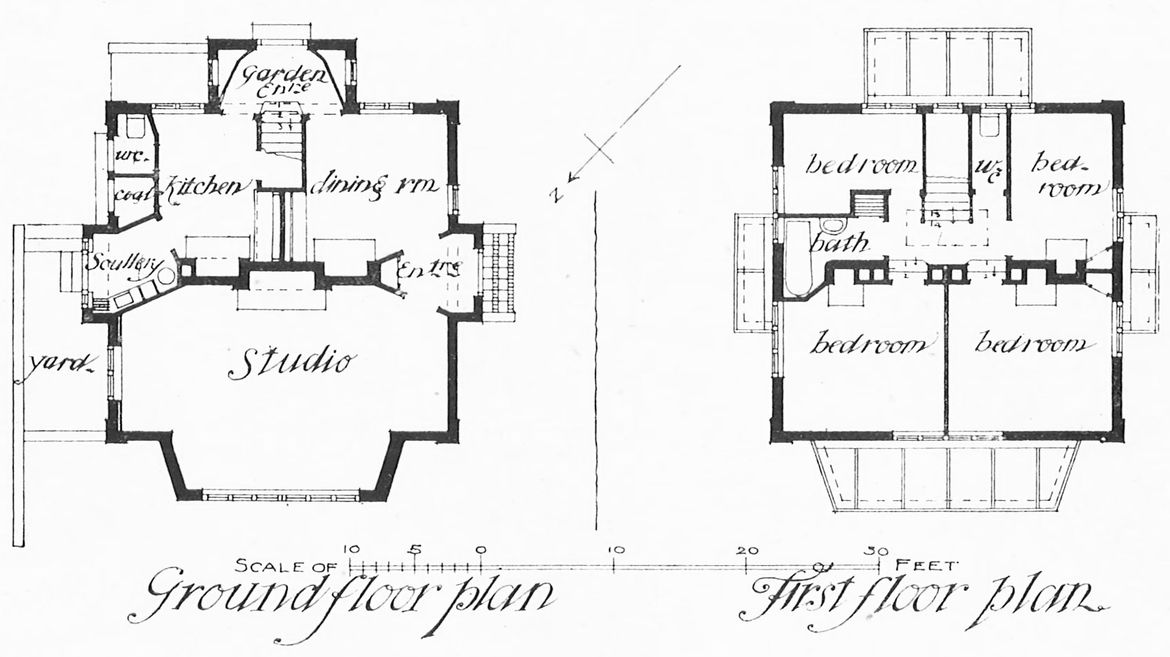 Floor plans for 10 Southway
Garden City Houses and Domestic Interior Details, 1924
Tom Roberts was an icon of Australian art towards the third quarter of the 19th century. But at the turn of the 20th century he fell on hard times and chose to return to Britain, the country of his birth. The house was small, simple and modest. Roberts barely made ends meet whilst living in London and spent the war assisting as an orderly at the 3rd London General Hospital in Wandsworth, returning to Australia in 1919.
Harold Wilson, as President of the Board of Trade in the Labour Cabinet, lived here from 1948-1956 later moving next door to number 12.
ECCLESIASTICAL WORKS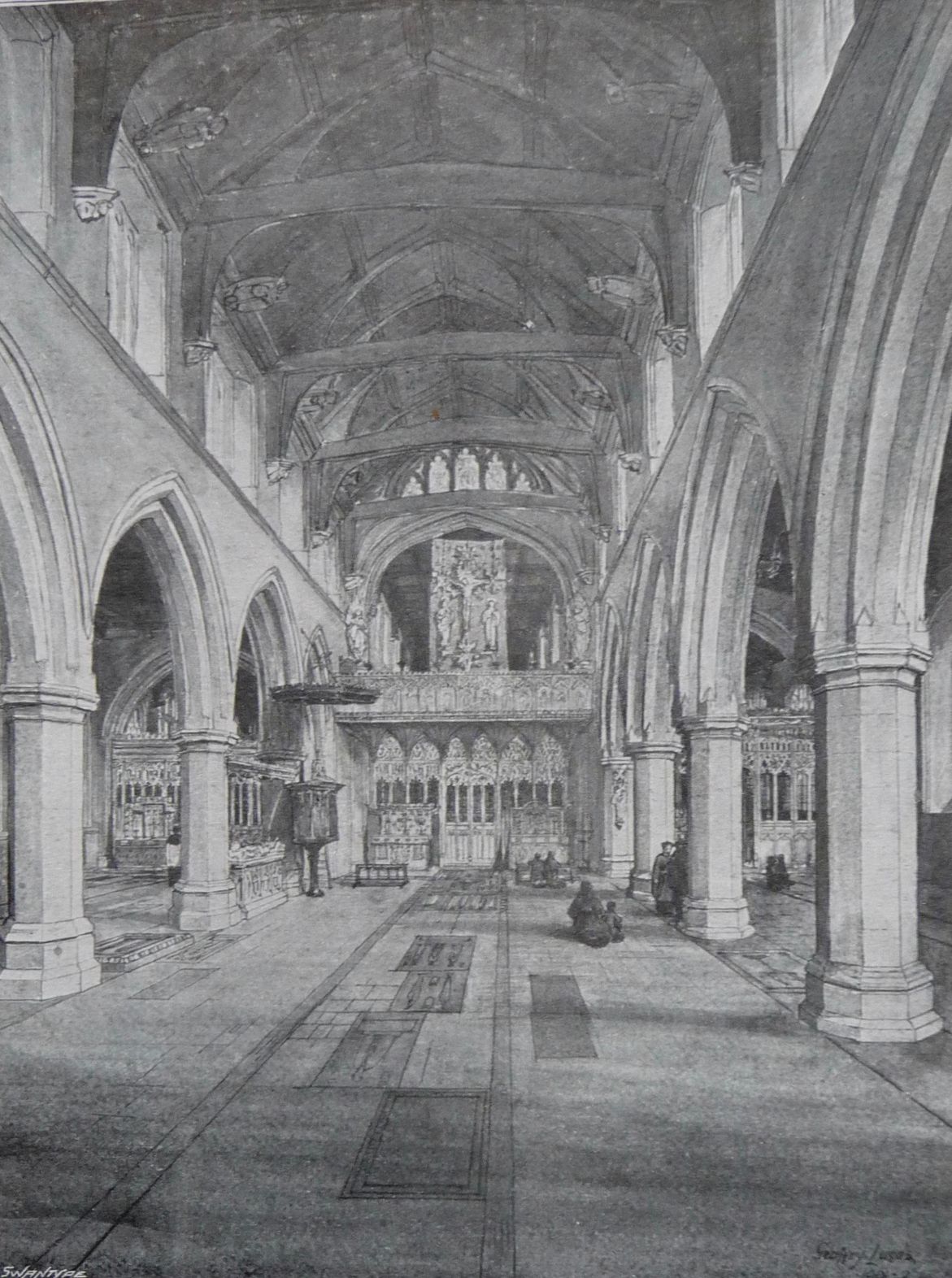 St Mary's, Hitchin
Although best known for his domestic work, Lucas took a strong interest in ecclesiastical architecture and in his later years he concentrated on the antiquarian side. This gained him admission to the Society of Antiquaries. "An enthusiasm for the development of church plans gradually led him to consider that in all church plans there was an underlying basis of squares, which held throughout [all churches]." [7] At the AGM of the Kent Archaeological Society in 1935, Lucas lectured on "The Plan-Design of the Earliest Kentish and some other English Churches" and put forward his theory with drawings. Lucas was proposing to submit a paper of his research backed up by plans and measurements to one of the venerable societies of the time in order to prove his theory, but this never materialised. He did nevertheless make historical plans of many churches as well as restoring quite a number.
His interest in all things ecclesiastical can be seen throughout his career in church designs and furnishings, including St Mary's Church, Hitchin (1900); St George's Church, Amersham; St Edmunds, Downham Market; All Saints Church, Gretna, Dumfries (1917); St. Gabriel's, Swansea (1914); and The Holy Name Cathedral Hubli near Bombay (1926). He became the Ecclesiastical surveyor for the Diocese of St. Albans and as a member of the Architectural Association he wrote papers and lectured on Medieval architecture in England and European Medieval architecture.
In a paper given in August 1901 to the East Herts Archaeological Society at St Mary's Church, Hitchin, his devotion to religion and all things ecclesiastical is evident:
"In studying an old church, if we would understand it aright, we should come to it with great sympathy and strive to enter into the spirit which animated its builders, to feel as they felt and for a time to live as they lived. This should not be so very difficult; for we may be sure they were honest common sense Englishmen, acting from the same emotions as those which govern our own lives. In some respects we may rightly regard them as great boys, full of sturdiness and strength, subject to the same powerful impulses that we are, but giving expression to them in more vigorous form. In those days, every parishioner seems to have been much more in touch with his church, proud to be one of its possessors, and jealous of its glory than we find now often the case. There seems to have been about their religion a sense of pleasure in it, resulting in a magnificence, stateliness and visible, tangible worshipfulness- if one may use the expression - and an absence of timidity in faith and outward practice."
The church of St Mary's Hitchin had strong family connections dating back to the 17th century. Robert Lucas (b.1610), descended from Richard Lucas (d.1559) a maltman, and the first known antecedent of Geoffry Lucas, presented a gift to the church. In 1653, the Lucas family converted to the Quaker faith so there was no association with St Mary's for the next two centuries. However in 1869, Francis Lucas - a cousin of Geoffry and a partner in the family bank of Sharples, Tuke, Lucas and Lucas - left the Friends, and is recorded as donating funds for the restoration of the roof of St Mary's, re-uniting the church with the Lucas family and his ancestors.
Lucas spent many years exhaustively making detailed drawings and researching the history of the church. [8]
1910 St Edmond's Church, Downham Market, Suffolk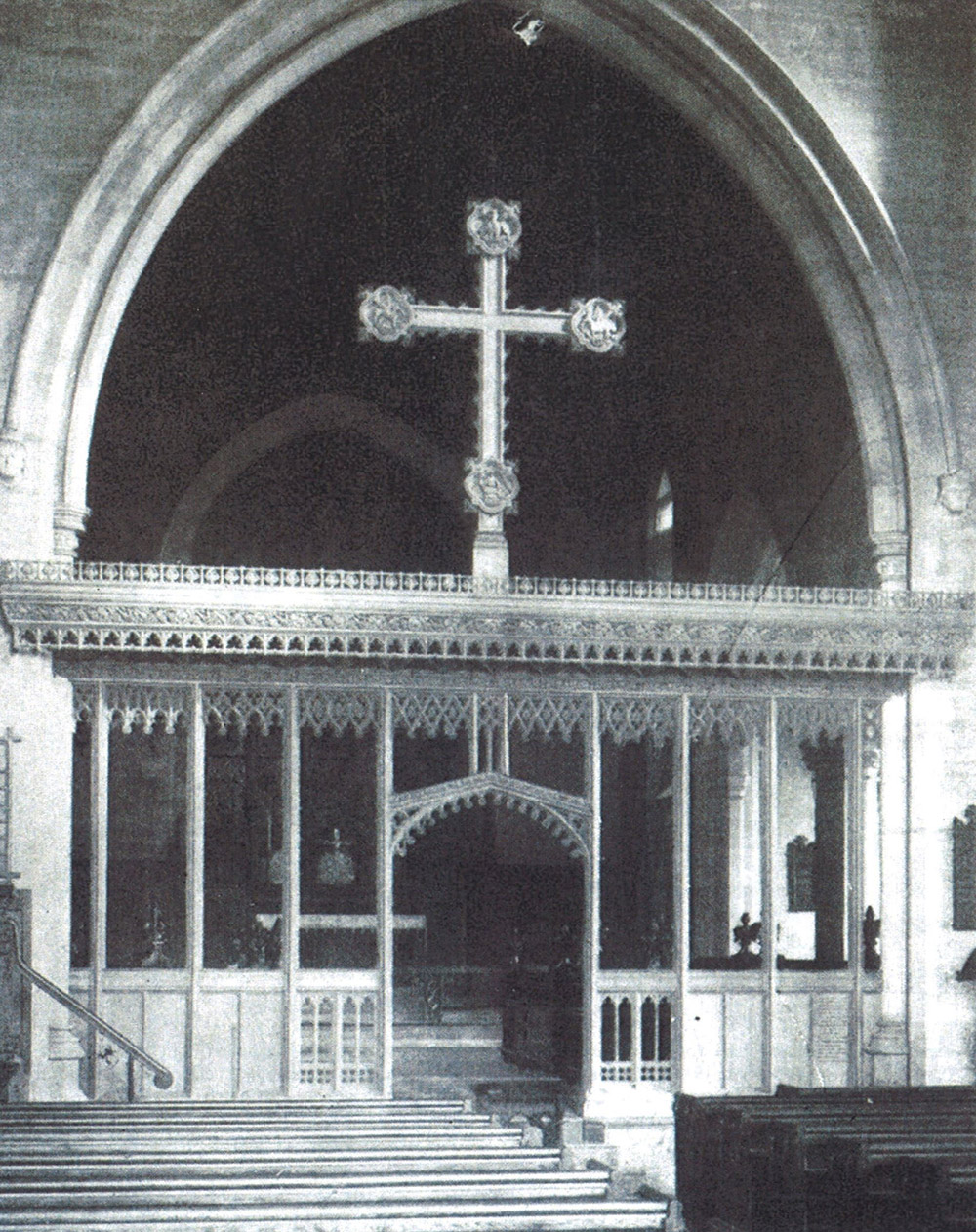 St Gabriel's, Swansea
Lucas designed the carved oak Rood Screen and pulpit in 1910 for St Edmond's Church, Downham Market, Suffolk. The only other Rood Screen he designed was for St Gabriel's Brynmill, Swansea in 1914 (pictured, right).
THE WORK OF LUCAS POST HAMPSTEAD GARDEN SUBURB
In 1909 Lucas engaged an articled clerk by the name of Thomas Arthur Lodge (1888-1967), appointing him partner in 1911 until 1914. Lodge later re-joined Lucas in 1923 along with Henry Vaughan Lanchester (1863-1953) to create the firm of Lanchester, Lucas and Lodge.
In 1911, aged 39, Lucas became a Fellow of the RIBA proposed by Leonard Stokes, Edward Guy Dawber and Henry T. Hare. The following year he was awarded the RIBA Godwin Bursary.
Lucas' work was often to be found in contemporary books [9] and professional journals representing solid work and thoughtful design of cottages and domestic interiors. He lectured at the Architectural Association on Early English Architecture up to 1500 AD and Medieval architecture in Europe with the emphasis on ecclesiastical architecture and its influence on design, subsequently becoming a Member of the Council of the RIBA and an examiner of Design.
Lucas' drawings for H. T. Hare (left) and E. Guy Dawber (right)
1911 Ruislip Manor Competition
Following on from the success of Letchworth Garden City and Hampstead Garden Suburb, there was a fervour to create suburbs to meet the demands of the new working class, particularly with the extension of the Metropolitan line to Rickmansworth, Buckinghamshire, and the Great Eastern Railway to Gidea Park in East London.
The first ever Town Planning Conference was held in 1910. Town Planning was a completely new area for architects, engineers and surveyors, and the movement took off with great fervour, encouraging the creation of a school of town planning. Earlier in the century saw the creation of Letchworth Garden City, followed by Hampstead Garden Suburb. Then, in 1911, Gidea Park and Ruislip Manor.
The prospect of the creation of a new town in Ruislip brought an enormous amount of interest from the architectural fraternity. And here was an opportunity to follow the blueprints of the plans of Letchworth and Hampstead Garden Suburb.
In 1911, a town planning competition was organized jointly by the local authority and King's College, Cambridge who owned a large proportion of the land in question. King's College had appointed Raymond Unwin in 1909 to act on their behalf as consultant of this new development. Unwin, together with Sir Aston Webb, became judges of the competition for a master layout plan.
The design had to provide housing accommodation for 70,000 people when complete, which was twice the size of Letchworth Garden City. The enormity of the development required an infrastructure of railways, schools, shops and open spaces, which many architects were unable to handle. Lucas was one of the many architects who submitted designs but was not successful. Discussing his plan, The Architectural Review [10] commented: "It is surprising that Mr Geoffry Lucas's plan did not secure a place of honour. It is a very excellent plan, worthy of careful study."
The winning entry, by A. and J. Soutar, was announced in September 1914, shortly after the outbreak of the First World War. Their plans formed the basis for the future development of 6,000 acres of the parish. John Carrick Stuart Soutar went on to become Unwin's successor as consultant Trust architect at Hampstead Garden Suburb.
1911 Gidea Park, Romford
The opening by Great Eastern Railway of a station at Gidea Park in Romford resulted in the proposition of a Garden Suburb. Many of the architects who had contributed to Hampstead Garden Suburb also worked on the creation of Gidea Park including Geoffry Lucas, who was awarded the gold medal and first prize of £250 for his competition house in Parkway. His entry was a square Georgian box with casement windows and economical internal planning all contained under a tall hipped roof.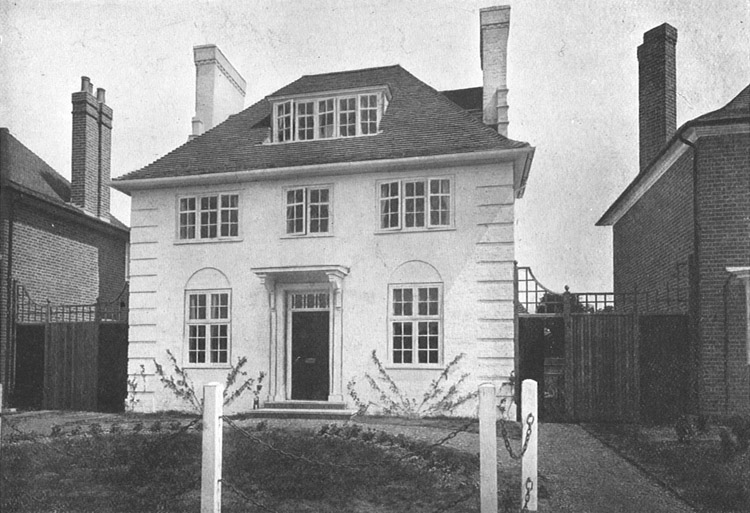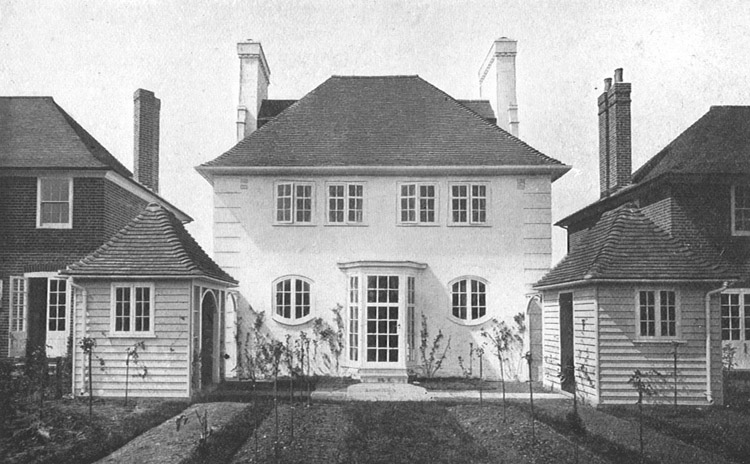 Lucas houses at Gidea Park, Romford
Domestic Architecture
The houses, known as the exhibition houses, are fine examples of domestic architecture. Lucas and Lodge won second prize for the town plan of Gidea Park.
Esher Park
Esher Park is another example of a Garden Suburb plan in which Unwin was involved. Lucas contributed a group of five prim Georgian revival houses symmetrically planned. It appears that only the central house was built. The scheme was published in Garden Suburbs, Town Planning and Modern Architecture, 1910.
Esher Park


Garden Suburbs, Town Planning and Modern Architecture, 1910
Esher Park
Garden City Houses and Domestic Interior Details, 1924
1911 Banbury
In December 1911 Lucas entered a competition for forty council houses to be built on the new Kings Road in Banbury. Twenty were to cost no more than £175 each and the other twenty no more than £135. Entrants were asked to avoid monotony and make the best use of the land. In all there were sixty-three entrants for the competition. This time Lucas, together with Lodge, won the competition.
The cottages were constructed as reversed pairs in four groups of ten, each with its own garden. The second floor of the houses had gable fronts with dormers rising from the eaves on the alternate houses. [11]
Shortly before the outbreak of the First World War, Lucas moved his practice from his birth town of Hitchin to Bloomsbury, London. He had been working from Bloomsbury part time for some years but now he transferred full time to the capital.
1914-1918 Gretna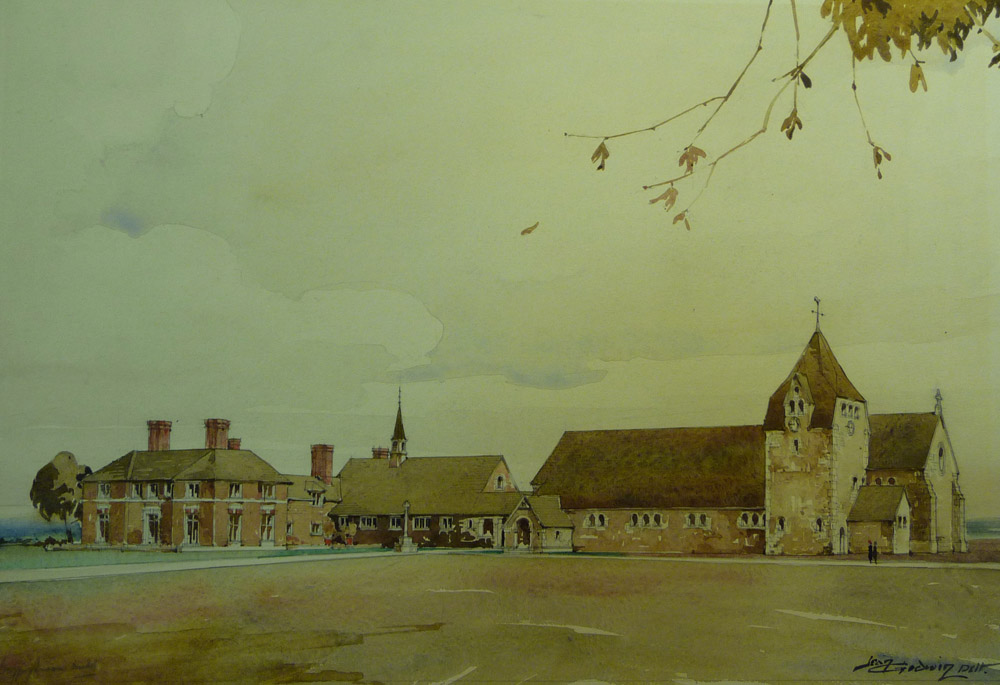 All Saints', Gretna
RIBA Drawings Collection
In 1915, during the First World War, Gretna in Dumfries became the site for the largest munitions factory ever built. Cordite, an explosive, was produced in vast quantities by seventeen thousand workers, two thirds of whom were women. These employees needed to be housed. Raymond Unwin was seconded by the Ministry of Munitions to design a layout for a new town for Gretna.
Unwin enlisted colleagues with whom he had worked at Hampstead Garden Suburb including Michael Bunney, Courtenay Crickmer, Evelyn Simmons and Geoffry Lucas. They built what was required of a small town: a bakery, a laundry, five churches, two schools, hospitals, fire stations, a club, two cinemas, three recreation halls, a doctor's house - and of course homes. Lucas built the All Saints' Episcopal Church in 1917 in the Arts and Crafts tradition. The Church is listed Category B equivalent to Grade II*.
POST-WAR LUCAS 1918-1947
Following the First World War, Lucas married Kathleen Maud Markham of Guildford in 1918. The next year, he formed a partnership with the very successful Henry Vaughan Lanchester (1863-1953) and in 1923 Lodge re-joined Lucas to create the firm Lanchester, Lucas and Lodge.
Works undertaken during the 1920s by this practice include the Parkinson Building at the University of Leeds (1927), premises for Bovril in Old Street, London (1920), a substantial house at Jordans, Buckinghamshire (1928) and various housing schemes as well as buildings in India, including a church at Hubli, Bombay (1928).
1928 Hubli Church, Bombay
Hubli was a small village outside Bombay. The need for a church arose from the establishment of the Criminal Tribes settlement in 1919 due to a new policy by the Bombay Government together with a British Official, H. Starte, who was to oversee the project. In 1925, Canon (as he became) Bradbury, who was the acting manager of the settlement, visited England and made arrangements to obtain a plan for a new Church.
Lucas never visited the site but supplied half-inch scale and full-size details of every part of the structure, which was subsequently exhibited at the Royal Academy, London, in 1926. But the plans remained largely unused through lack of funds. When the West End was finally completed in 1939 Lucas' designs had been abandoned.
FINAL YEARS
The Lanchester, Lucas and Lodge partnership did not offer Lucas what he had hoped for and he withdrew after 7 years in 1930, aged 58. He continued his work as an academic of church architecture, measuring churches to prove his theories, writing papers, and lecturing.
Lucas died at the age of 75 on 3 October 1947, and was buried in the churchyard of his village in Walmer in Kent. He and his wife had no children.
OVERVIEW
Lucas' work was honest. He disliked unnecessary adornment. He felt that architecture which has no architectural logic or sound constructional necessity is not required. An extract from a lecture he gave before the Leeds and Yorkshire Architectural Society in 1901 [12], succinctly sums up the man and his architecture:
"What we ought to be able to say about a building is, 'I like this building because the man who did it knows what he is about, he knows about old work but did not choose to copy it. It is a modern building for a modern man……There is nothing here the building could part with except to lose by it. I know its purpose without being told. What picturesqueness it has is the direct result of plan and material and arrived at without any straining. The building looks to me like an honest effort to meet requirements directly, to use material rightly, to construct in it truthfully and to adorn it suitably.'"
What Lucas gave to his clients through his buildings is sound, solid and pleasing architecture which has left a lasting legacy.
© Jacqui Barnett 2017
---
Timeline
1889 RA, AA, RIBA
1894 AA Medal in Design
1894 AA lecture medal
1895 Independent practice in Hitchin, Hertfordshire
1899 Associate RIBA – proposers Mountford, Baggallay and Stokes
1899 Moves practice to Grays Inn Road, London
1901 Sets up Hitchin Society of Arts and Letters
1901 Hitchin Town Hall with Mountford
1902 Sand Hill Close, Hitchin
1902 The Warren, Royston
1903 Plowmans cottages, Letchworth, with Sidney Cranfield
1904 Nurses' Cottage, Heathfield, Sussex
1905 Poynders End, Hertfordshire
1906 Glynde, Sussex
1907 Hampstead Garden Suburb Development Company formed
1908 First houses in Hampstead Garden Suburb
1909 Lodge trains under Lucas
1909 House at Baldock, Herts
1910 House at Broxbourne, Herts
1910 TOWN PLANNING CONFERENCE
1910 Rood screen and pulpit, St Edmond's, Downham Market, Suffolk
1911-1914 Lodge becomes a partner
1911 £500 house prize Gidea Park, Gold Medal
1911 Fellow of RIBA – proposers Stokes, E. G. Dawber and Henry Thomas Hare
1912 Godwin Bursary, RIBA
1912 Banbury prize for £150 council house
1914 Moves practice to Bloomsbury, London
1914 Rood Screen and pulpit, St Gabriel's, Brynmill, Swansea
1914-1918 Munitions houses, Gretna
1917 Gretna All Saints Episcopal church as assistant to Raymond Unwin
1918 Marries Kathleen Maud Markham
1919 Joins Lanchester
1920 Bovril building, Old Street, London
1923 Lodge joins Lanchester and Lucas
1923 Stockton-on-Tees War memorial
1923 Housing scheme, Weybridge
1923 Morley College for working Men and Women, Westminster (destroyed 1940)
1927 Parkinson Building, University of Leeds
1928 Church at Hubli, Bombay
1928 House at Jordans, Bucks – Lanchester, Lodge and Lucas
1930 withdrew from partnership
Primary sources
Hertfordshire Archives and Local Studies, Hertford
London Metropolitan Archives
North Hertfordshire District Council, Hitchin
RIBA
Bibliography
Adams, M., Modern Cottage Architecture, Second ed. London, Batsford, 1912
Baillie Scott, M.H., Garden Suburbs, Town Planning and Modern Architecture, London: Fisher Unwin, 1910
Creese, Walter L., The Search for Environment: The Garden City Before and After, Baltimore; London: Johns Hopkins University Press, 1992
Davey, P., Arts and Crafts Architecture: The Search for Earthly Paradise, The Architectural Press, London, 1980
Davidson, David, One Hundred Years in the Making: The Creation and Protection of Raymond Unwin's Legacy at Hampstead Garden Suburb, published online 2014
Gray, A. Stuart, Edwardian Architecture – a biographical dictionary, photographs by Jean & Nicholas Breach ; drawings by Charlotte Halliday ; foreword by Nicholas Taylor London : Duckworth, 1985
Miller, M., Hampstead Garden Suburb: Arts and Crafts Utopia, CUO, 2006
Transactions of the RIBA Town Planning Conference, London 10-15 October 1910
Pevsner, N. and Cherry B., Buildings of England; London, 4, London : Penguin, 1998
Phillips, Randal, The £1000 House, Country Life, London 1928
Sparrow, W. Shaw, The British Home of To-day, London: Hodder & Stoughton, 1904
Unwin, Raymond; Baillie Scott, M.H., Town planning and Modern Architecture at the Hampstead Garden Suburb, London: T. Fisher Unwin, 1909
Weaver, L., The Country Life Book of Cottages, 2nd edition, 1919, pp.250-253
Journals
Archaeologia Cantiana Vol 60, 1947
Architects Journal
Architectural Association Journal vol 20, January – December 1905
Architectural Review 29 vol 1911,1922
Building News, 1902, 1905, 1910
Builders Journal and Architectural Record, 1902
RIBA Journal vol. 8 22 June 1901 pp.409-416, 7 October 1912, p.83, v55 November 1947
The Builder 1901, 1912, 1916, 1919
References
Australian Dictionary of Biography
Archiseek
Directory of British Architects
Directory of Scottish Architects
Oxford Dictionary of Architecture
Kelly's Post Office Directories Finchley
Ordnance Survey Maps 1910, 1920, 1930
Who's Who in Architecture
Wikipedia
---
[1] Obituary, RIBA Journal p39 November 1947
[2] Stamp, Gavin, 'Exhibition on London Buildings 1890-1914' at the RIBA Heinz Gallery, House and Garden, vol 33 June 1978 p74-75
[3] Pevsner, N and Cherry B. The Buildings of England, London 4: North, 1998 p149
[4] Cottage plans and common sense The Fabian Society Fabian Tract No 109, 1902, p55
[5] Town Planning Conference London 10-15 October 1910
[6] Pevsner, N. and Cherry B. The Buildings of England, London 4: North, 1998
[7] Obituary, Kent Archaeological Society; Archaeologia Cantiana Vol 60 1947
[8] Church Bells and Illustrated Church News 1906
[9] Adams, Maurice Modern Cottage Architecture, 1904 and 1912, London, Batsford
[10] Town Planning and Housing 1911, Architectural Review vol 29 p171
[11] Municipal Dreams, 'Early Council Housing in Banbury, Part II: King's Road and the Cow Fair Roarer', posted on line.
[12] Lucas, G, 'Logical Building and its influence on Design', RIBA journal, vol 8, 22 June 1901, pp 409-416